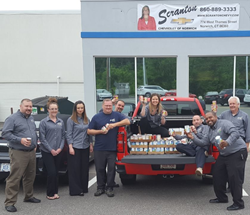 "We're really proud of our team", said Meg Scranton. "Helping end hunger is a cause we can all get behind."
(PRWEB) June 20, 2016
Norwich, CT: The Gemma E. Moran United Way / Labor Food Center will be presenting a 1st Place award to Scranton Chevrolet of Norwich for the Uniting for United Food Drive.
The award will be presented on Saturday, June 25 at 10am, at the dealership, 774 West Thames Street in Norwich, next to Mohegan Sun. Media members are encouraged to attend & cover this event.
During the Uniting for United Food Drive, local businesses were assigned food categories. Scranton Chevrolet of Norwich was assigned to the canned bean category, along with five other local businesses. Through Scranton Chevrolet of Norwich's efforts, 1,353 pounds of beans (over 2/3 ton) were collected for the Food Center.
"We're really proud of our team", said Meg Scranton. "Helping end hunger is a cause we can all get behind. A big thank you goes out to everyone who helped and donated!"