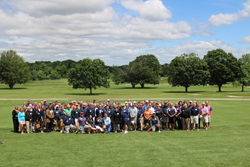 Providence, RI (PRWEB) June 22, 2016
Brokers' Service Marketing Group (BSMG) continues it's focused mission to strengthen the communities in which it does business while helping to improve their neighbors quality of life. This year's 15th Annual Charity Invitational at the Rhode Island Country Club reflects BSMG's dedication to this endeavor. Fundraising efforts were focused on Providence organizations Amos House and Day One. Amos House is a nonprofit social services agency that provides hospitality and direct services to the homeless and poor of Rhode Island. Day One is an agency whose mission is to reduce the prevalence of sexual abuse and violence as well as to support and advocate for those affected by it. Day One is the only organization of this kind and actively participates in national reform.
Honoring tradition, the event featured an action-packed day. The morning session commenced with an informative presentation from Jeff Bush, Co-Founder of the popular Washington Update (Jeff Bush of the Washington Update), an industry thought leader that guides domestic clients through the complex and ever-changing political and tax environment in the U.S. The lively morning program also included the presentation of the 2016 David B. Lea Award for Excellence. The award recognizes a financial advisor who is both highly successful in the business world while also making an impactful difference in the community, both local and abroad. This year's award winner was Jeffrey G. Brier, CLU, ChFC, CASL of the financial planning firm Brier & Brier. Jeff exemplifies all that encompasses the award and is a very deserving recipient.
The afternoon session saw one hundred-fifty financial service professionals from across the country enjoy a competitive day of golf at the Donald Ross designed course at Rhode Island Country Club along with a wonderful tour and wine tasting at Newport Vineyards.
Upon completion of the day's event activities, the group adjourned for dinner and Rhode Island Country Club's superb cuisine as well as a dynamic live auction and raffle. As part of this year's auction, $9,000 was raised (in a matter of minutes!) for the Outreach Program of Rhode Island which is dedicated to ending hunger. The Outreach Program is a nonprofit organization that organizes food packaging events around the country. They have packaged more than 330 million meals to date. On August 5th, the staff members of Brokers' Service Marketing Group will come together to package 36,000 meals for Amos House, with money raised at this event.
The 15th Annual Charity Invitational was a huge success. In addition to enjoying a day filled with education and terrific activities, Brokers' Service Marketing Group raised over $40,000 in donations destined for local community charities Amos House and Day One.
"We have now raised close to $1,000,000 for two great local charities. This year we took it to the next level, rolling up our sleeves by raising funds for families in Rhode Island who face hunger every day of their lives. As an organization, we are blessed to blend our day-to-day business with a commitment to improving the lives of those less fortunate. It has been a wonderful WIN-WIN experience for everyone." – Jason E. Lea President Brokers' Service Marketing Group
BSMG would also like to thank the sponsors of this year's event: AIG, American National, Athene, Great American, Legal & General, Lincoln Financial, MetLife, Mutual of Omaha, Nationwide, Principal, Protective, Prudential, Symetra, Transamerica, Voya, iPipeline, Turino Group & Vertikal 6; and looks forward to another successful fundraising effort next year at the 16th Annual Charity Invitational.
About Brokers' Service Marketing Group:
Built on a 44-year history and leveraging its industry knowledge, Brokers' Service Marketing Group is a life insurance, annuity and long term care insurance brokerage general agency. We support advisors and financial institutions whose clients require asset and income protection as well as retirement solutions. Our innovation, passion and expertise help our customers deliver the best results to their clients every day.