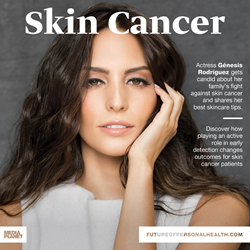 (PRWEB) June 19, 2016
While most melanomas that appear on the skin can be seen by the naked eye, if patients do not protect themselves and do not know the signs that a new or changing mark on the skin could be dangerous, it can delay the action of seeing a doctor and getting treated. This campaign discusses how people can keep themselves safe in the sun and walks readers through a step by step process of checking their skin for signs of skin cancer.
American actress Génesis Rodríguez graces the cover of the print publication. In an exclusive interview with Mediaplanet, she shares her family's personal account with melanoma and how it taught her to check her skin regularly.
"Start by looking at your skin and asking yourself, 'was that mark there last year?'" she explains. "When I'm in the sun, I don't get burned. I just get darker. So I thought I must not be at risk, but that's a complete myth."
Rodríguez concludes by emphasizing the importance of using sunscreen every day. "Using sunscreen daily, that's the most important thing," she says. "It should become your everyday habit. It doesn't matter if it's cloudy or even snowing, so put it on every day."
The print component of "Skin Cancer" is distributed within this weekend's edition of USA Today in Los Angeles, New York, Philadelphia, Chicago, Seattle, Atlanta, Phoenix and South Florida with a circulation of approximately 450,000 copies and an estimated readership of 1.3 million. The digital component is distributed nationally, through a vast social media strategy, and across a network of top news sites and partner outlets. To explore the digital version of the campaign, click here.
This edition of "Skin Cancer" was made possible with the support of Genesis Rodriguez, Ihadcancer.com, AIM at Melanoma, Melanoma Research Foundation, Melanoma Research Alliance, Skin Cancer Foundation, Merck Oncology, Novartis, Amgen, 3M, EltaMD, Skinvisible, Schweiger Dermatology Group and many more.
About Mediaplanet
Mediaplanet is the leading independent publisher of content-marketing campaigns covering a variety of topics and industries. We turn consumer interest into action by providing readers with motivational editorial, pairing it with relevant advertisers, and distributing it within top newspapers and online platforms around the world.
Press Contact:
Lindsay Dworetz
lindsay(dot)dworetz(at)mediaplanet(dot)com
646-922-1406