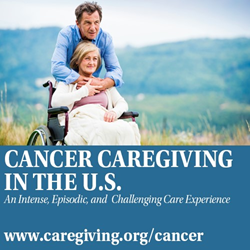 "Many cancer caregivers are being asked to take on medical nursing tasks without prior preparation, face intense emotional and physical stress, and struggle with end-of-life decision making."
Washington, DC (PRWEB) June 20, 2016
A new report shows that people caring for a loved one with cancer often have more intense, episodic caregiver responsibilities than those caring for someone with other health needs. The report, from the National Alliance for Caregiving in partnership with the National Cancer Institute and the Cancer Support Community, draws on a nationally representative data set to identify the special challenges of a friend or family member caring for a loved one with cancer.
"Cancer affects not just the person who has the disease, but also the family and friends who surround that individual," noted Dr. Margaret Longacre, of the Cancer Support Community and a contributing author to the report. "Many cancer caregivers are being asked to take on medical nursing tasks without prior preparation, face intense emotional and physical stress, and struggle with end-of-life decision making."
In addition to describing the cancer caregiving population through new statistics on their daily activities, the report compares cancer caregiving to other types of caregiving. Based on these findings, researchers offered a series of recommendations for future research and support.
"When we look at the experience of cancer families compared to caregiving across the board, cancer caregiving tends to be much shorter in duration but more intense and challenging," explained Gail Gibson Hunt, President and CEO of the National Alliance for Caregiving. "When you care for someone with cancer, you may have a very intense episode of taking that person to the hospital, supporting them through chemotherapy, or other caregiving tasks. It can be difficult to get support from your employer or to cover the cost of care during that time."
The report includes statistics and analysis on the challenges facing family caregivers, as well as recommendations for future support. Highlights include:

Approximately 2.8 million people are caring for someone whose main problem or illness is cancer.
The typical cancer caregiver is a 53 year old woman, typically with less than a college degree and less than $75,000 in household income.
Most cancer caregivers support a relative (88%), usually a parent or parent-in-law (44%), a spouse or partner (16%) or a sibling or sibling-in-law (14%).
A primary role of cancer caregivers is to interact with health care providers, agencies, and professionals on behalf of their loved one – 82% communicate with health care professionals on behalf of the care recipient, 76% monitor the severity of their loved one's condition, and 62% advocate on behalf of their care recipient with providers, community services, and government agencies.
A high majority of cancer caregivers (80%) report that the care recipient has been hospitalized at least once in the past year, an event significantly less common among non-cancer caregivers (52%).
Cancer caregivers typically have "helpers" in care – almost eight in ten report that their loved one lives with another person and seven in ten report that others help provide unpaid care.
The typical cancer caregiver provides care for just under two years (1.9) compared to caregivers for other conditions, who typically provide care for an average of 4.1 years.
Cancer caregivers, on average, are spending 32.9 hours a week providing care to their loved one and nearly a third of cancer caregivers provide care for 40 hours a week or more.
Compared to non-cancer caregivers, cancer caregivers are much more likely (72%) to be conducting medical and nursing tasks for their loved one. More than four in ten of these caregivers provide help with medical and nursing tasks without any prior training or instruction.
Caring for someone with cancer is more emotionally stressful than other types of caregiving – 50% of cancer caregivers report that they felt "highly stressed." Four in ten caregivers report that they need help managing emotional and physical stress.
One ongoing challenge for cancer caregivers is the need for support during advanced stages of illness, with 40% of caregivers indicating that they needed help making end-of-life decisions.
"This report highlights how caregivers of cancer patients and survivors have many shared but also some unique characteristics with caregivers for other medical conditions," explained Dr. Erin Kent of the National Cancer Institute and contributor to the report. "It also supports the need for more research to determine the best approaches to assist cancer caregivers manage the many tasks they juggle to help take care of their loved ones and preserve their own well-being."
Get the Report
The report is available at http://www.caregiving.org/cancer.
About the Report
Cancer Caregiving in the U.S. is jointly authored by the National Alliance for Caregiving, the National Cancer Institute, and Cancer Support Community with data analysis from Greenwald & Associates. It is made possible through a contract with the National Cancer Institute and generous sponsorship from the Cancer Support Community.
The report compiles cancer-specific data from a 2015 study, Caregiving in the U.S., a joint project from the National Alliance for Caregiving and AARP Public Policy Institute. The original report surveyed more than 1,200 family caregivers and identified common challenges facing the caregiving community, including difficulty conducting medical and nursing tasks, challenges with balancing career and caregiving responsibilities, and financial strain.
About the National Alliance for Caregiving
Established in 1996, the National Alliance for Caregiving is a non-profit coalition of national organizations focusing on advancing family caregiving through research, innovation, and advocacy. The Alliance conducts research, does policy analysis, develops national best-practice programs, and works to increase public awareness of family caregiving issues. Recognizing that family caregivers provide important societal and financial contributions toward maintaining the well-being of those they care for, the Alliance supports a network of more than 80 state and local caregiving coalitions and serves as Secretariat for the International Alliance of Carer Organizations (IACO). Learn more at http://www.caregiving.org.
About Cancer Support Community
The Cancer Support Community (CSC) is dedicated to ensuring that all people impacted by cancer are empowered by knowledge, strengthened by action and sustained by community. CSC achieves its mission through three areas: direct service delivery, research and advocacy. The organization includes an international network of Affiliates that offer the highest quality social and emotional support for people impacted by cancer, as well as a community of support available online and over the phone. The Research and Training Institute conducts psychosocial, behavioral and survivorship research. If you are interested in helping to advance research on the cancer caregiver experience, please join the Cancer Experience Registry where caregivers and patients share their experiences to enhance cancer care. CSC furthers its focus on patient advocacy through its Cancer Policy Institute, informing public policy in Washington, D.C. and across the nation. For more information, please call the toll-free Cancer Support Helpline at 888-793-9355, or visit http://www.CancerSupportCommunity.org.
About Greenwald & Associates
Greenwald & Associates is a full-service research firm with industry expertise in healthcare, financial services, & employee benefits. Conducting customized research for over 30 years, Greenwald & Associates has earned a reputation for extensive research knowledge, industry expertise, and commitment to serving the needs of our clients. For more information, please visit http://www.greenwaldresearch.com.