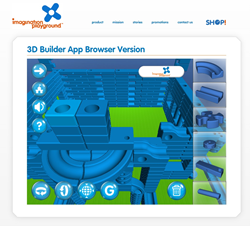 With these new enhancements, 3D Builder is now even more fun for kids and easier for teachers to use in the classroom.
New York, NY (PRWEB) June 20, 2016
With over 100K downloads and exciting new features, Imagination Playground's already popular 3D Builder app just got even better. A virtual version of creating with the well-known Big Blue Blocks, this fun and educational children's app allows kids to build, stack, connect and channel with Imagination Playground—just like they do in real life.
New in version 1.3.2 are ready-made templates, including a boat, a bridge, a castle, and a rocket ship. These provide a starting point for building that kids can customize into their own unique creations.
As before, 3D Builder works on both iOS and Android, but for those who prefer to surf, this latest release introduces a new browser version. Perfect for the classroom setting or home desktop use, the online option offers the same rich features as the mobile app while working with the most popular browsers such as Chrome and Firefox.
David Krishock, Imagination Playground President and CEO says, "By bridging the worlds of physical and digital building, 3D Builder has already helped our mission to reach more children with creative block play. Now, with these new enhancements, it's even more fun for kids and easier for teachers to use in the classroom."
Since its initial release in 2015, 3D Builder has been highly rated by top educational and parenting blogs. In their online review, iPhone Mom rated 3D Builder 4.8 out of 5, saying, "It is rare that you find a high quality, entertaining and educational app for free and Imagination Playground 3D Builder hits the jackpot."
Katie Chirhart, a children's technology instructor and writer for Teachers with Apps, recently tweeted her students' 3D Builder images saying, "My kinders LOVED your building app!"
Parents will also be interested to know that screen captures of builds created with 3D Builder can be submitted to Imagination Playground's popular annual Build-A-Thon contest. For details and prize information, please visit http://www.imaginationplayground.com/promotions/build-a-thon/index.html
For more information on Imagination Playground's 3D Builder, links to download, and access to the new browser version, please visit http://www.imaginationplayground.com/product/3d-builder-app.html
About Imagination Playground, LLC
Imagination Playground is a breakthrough play space concept developed to encourage child-directed, creative free play. The kind of play that experts say is critical to children's intellectual, social, physical and emotional development. Created by architect and designer David Rockwell and the Rockwell Group, Imagination Playground enables children to play, dream, build and explore endless possibilities. Imagination Playground finds its home in daycare centers, kindergartens, elementary schools, children's museums—and science, nature, discovery centers, camps, community centers, children's hospitals, hotels, public parks and more—in North America and over 60 countries overseas. For more information, visit http://www.imaginationplayground.com