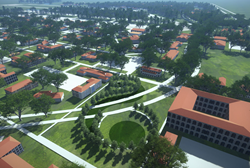 "We developed a vision that would revitalize the area and create a multi-purpose space that would foster growth at Texas A&M."
Houston, Texas (PRWEB) June 20, 2016
VERDANT, LLC, a collaborative urban development firm, is working with Texas A&M to create a $150 million research campus in Bryan/College Station. This May, VERDANT released a conceptual development plan for the RELLIS Campus, a detailed visualization of infrastructure, layout and green spaces.
The 2,000-acre campus, to be located at the revamped and renamed Riverside Campus, will include five sections of buildings unified by design. RELLIS is characterized by a strong Mediterranean influence— including Spanish Architecture floral courtyards, Spanish tile, spherical shrubbery and abundant water features.
The property was formerly Bryan Air Force Base, a World War II facility that Texas A&M University acquired in 1962, and features eye catching Tuscan inspired green spaces (air strips) embedded in the landscape.
"Our goal was to create a stunning campus that had a uniform personality," says Tyson Scott, CEO of VERDANT. "We developed a vision that would revitalize the area and create a multi-purpose space that would foster growth at Texas A&M."
Texas A&M plans to use the research facility to help companies move ideas from the laboratory to the marketplace while also offering a new path toward a college degree. It will be a high-tech, multi-institutional research, testing and workforce development campus.
Named after the Texas Aggies' core values of respect, excellence, leadership, loyalty, integrity and selfless service, it is expected that RELLIS will help A&M achieve goals for higher education.
About VERDANT
VERDANT is a collaborative urban development firm with an integrated approach to conceptual planning, consultation and landscape architecture. Dedicated to dissolving indoor/outdoor boundaries, VERDANT transforms ordinary spaces into extraordinary experiences.