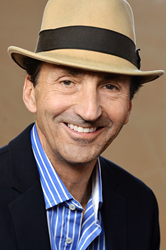 I am grateful for this honor and look forward to sharing our delicious cold brew coffee and nutmilk innovations at the Summer Fancy Food Show
Los Angeles, CA (PRWEB) June 20, 2016
Califia Farms, one of the fastest growing natural beverage companies in the United States, today announced that company CEO and Co-founder, Greg Steltenpohl is to be inducted into the 2016 Specialty Food Hall of Fame at the Summer Fancy Foods Show in New York City. Earlier this year, Steltenpohl was awarded a Specialty Foods' 2016 Business Leadership Award for his social, economic and environmental impact through innovation and named a Top 50 Disruptor by Beverage World for giving the almond milk category a "jolt of innovation."
Established in 2015, the Specialty Food Hall of Fame's mission is to "honor individuals whose accomplishments, impact, contributions, innovations, and successes within the specialty food industry deserve praise and recognition."
"I am grateful for this honor and look forward to sharing our delicious cold brew coffee and nutmilk innovations at the Summer Fancy Food Show," said Steltenpohl. "I am proud to stand with a long line of other industry pioneers who have paved the way. From the perspective of my own journey, which began over three decades ago, I can say I've never seen such a great time for entrepreneurs to make healthy and sustainable products popular for the masses. Because Califia Farms focuses so strongly on taste, flavor and texture, our Almondmilks, Cold Brew Coffees, Aguas Frescas and Juices are helping consumers adopt a more sustainable, and, we believe, more delicious, plant-powered and planet-friendly future."
Steltenpohl co-founded Califia Farms in 2010 and, as CEO, has led the company to become one of the fastest-growing natural beverage brands in the US. Sales of the company's award-winning Almondmilks have had triple digit growth year over year, while its refrigerated RTD coffee drinks rank number one in the natural channel and outsell Starbucks in specialty retailers. At Califia Farms, which was named 'Brand of the Year' in 2015, Steltenpohl is continuing the environmental sustainability and beverage innovation ideals that he pioneered as founder/CEO of Odwalla and Adina for Life.
Among the Califia Farms beverages available for sampling at the Summer Specialty Food Show are Full Shot, a 100% vegan, plant-based protein and MCT-oil bolstered, clean energy drink; Black and White, which marries creamy Almondmilk with Rainforest Alliance Certified™ Arabica beans (and was awarded Silver in the RTD Coffee Category in Beverage World's 2016 BevStar Awards), and Califia Farm's line of innovative low and no-sugar non-dairy creamers, including Better Half, a nut-based answer to the creaminess and functionality of traditional Half & Half.
"As consumers are increasingly concerned about the unnecessary ingredients in traditional 'energy' drinks, clean, plant-powered energy has been gaining in popularity," continued Steltenpohl. "Our line of low-to-no sugar, GMO-free, carageenan-free, gluten-free Cold Brew Coffees, Creamers and Almondmilks are designed to help American consumers embrace healthy energy choices that always taste great."
The company will be showcasing low- and no-sugar clean energy beverages at the Summer Fancy Food Show in New York City June 26 - 28 at booth #3166.
Join the conversation with @CalifiaFarms on Facebook, Twitter and Instagram.
About Califia Farms (pronounced "Cal-lih-FEE-ya," like California)
Inspired by the bounty of California, Califia Farms' (http://www.califiafarms.com) mission is to innovate delicious plant-powered foods for mindful nourishment. The Company is a leader in the revolution to de-commodify the food and beverage industry by creating innovative, healthy and great-tasting premium beverages that make it easy for consumers to go 'plant-powered' and dairy-free, without compromise. Founded in 2010 by a farmer's co-operative based in the San Joaquin Valley and headed by beverage visionary Greg Steltenpohl, Califia Farms is a uniquely California company. Its Bakersfield, Calif. manufacturing plant uses artisanal processes to create healthy and delicious plant-based beverages, is eco-friendly, energy efficient and repurposes more than 90 percent of its post-production byproduct. Califia Farms is one of the fastest-growing natural beverage companies in the U.S., as well as the leading brand in the natural products coffee drinks category. In 2015, Califia Farms was named "Brand of the Year" by BevNet and a "Breakout Brand" by Beverage World in 2015.
Califia Farms Media Relations
Melanie Webber, mWEBB Communications, (949) 307-1723, melanie(at)mwebbcom(dot)com
Elizabeth Johnson, mWEBB Communications, (213) 713-4865, elizabeth(at)mwebbcom(dot)com