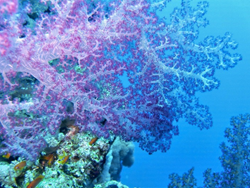 Not only is it a beautiful gem, but now it's becoming a precious commodity.
(PRWEB) June 22, 2016
Dr. Jodie Rummer, a senior research fellow at James Cook University in Australia, believes that a number of different factors, such as climate change, El Niño, and low tides exposing more of the Great Barrier Reef to the sun's rays, have played a role in the massive amounts of coral bleaching that has occurred over the past few years.
According to a recent article published by James Cook University, coral bleaching is described as the process of coral ejecting colorful "photosynthetic algae called 'zooxanthellae.' The loss of these colourful algae causes the corals to turn white, and 'bleach.' Bleached corals can recover if the temperature drops and zooxanthellae are able to recolonise them, otherwise the coral may die."
NativeAmericanJewelry.com has seen its fair share of coral ups and downs and suggests that now is the best time to invest in coral pieces. The spokesman for the company, Steven Onida, said, "It's no surprise that things increase in value when they become scarce; we've seen it with silver, turquoise, and many other natural resources. Now is the best time to purchase coral jewelry. Not only is it a beautiful gem, but now it's becoming a precious commodity. People might miss their opportunity and not be able to get it at affordable prices for quite some time, especially after coral bleaching has taken its toll."
Coral bleaching and general depletion are not new. Even natural events such as hurricanes and prolonged cold weather can have a huge impact on the coral reef. According to the World Resources Institute, 75% of the world's coral reefs are at risk from local and global stresses. These conditions continue to make coral a rarer resource for jewelry businesses that use the elaborate colors and natural designs for jewelry. Rummer's findings only indicate a very drastic example in recent years.
Onida and his team look forward to the general public embracing the beauty of the ocean and learning more about the stunning art form that creates jewelry pieces from the vibrant colors that coral possess. The company advises people to invest in coral jewelry, claiming that the opportune time is before coral has been depleted from these natural events.
NativeAmericanJewelry.com invites people to view and invest in coral jewelry on their website while they still can.