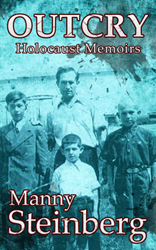 How can the world let this happen?
(PRWEB) June 20, 2016
Holocaust survivor Manny Steinberg finds peace with the success of his print and audio book being read by thousands.
"My father managed to tie up his life in a pretty bow in his last year," says Gary Steinberg of Manny Steinberg, the author of the Amazon bestselling Holocaust memoir, Outcry. "At 90, he finally saw his book successfully published, and was invited by the German city of "Vaihingen an der Enz" as an honored guest for the 70th anniversary of the liberation of one of the death camps where he spent the war years."
Outcry is more than a candid, deeply moving autobiographical account of how Steinberg, born in 1925, survived the unspeakable horror of suddenly finding himself and his family uprooted from their tiny, quiet Polish town where his father eked out a living as tailor, to the horrors of the Nazi death camps. While being subjected to torture and degradation, Steinberg recalls his younger self asking over and over again, "How can the world let this happen?" But Outcry is more than a pitiful cry in the darkest days of mankind; it's a tribute to the power of love, hope and the strength of the bond between himself and a brother who, having managed to escape from a camp-bound train, turned himself in when he saw his brother a prisoner. Outcry touches the reader with its directness and simplicity — a story told through the eyes of an old man forcing himself to relive years of intense suffering. 
In the aftermath of the war, Steinberg resettled in Los Angeles, married, served in the U.S. Army during the Korean War, and became a shopkeeper while raising three children. But even though his father and beloved brother had also somehow managed to survive, he couldn't escape the memory of the war years. Unable to find a suitable outlet for his disquiet, in his 40s he began to channel his anguish into what would eventually become Outcry. 
For several years, Steinberg hesitated to return to his manuscript because he didn't believe anyone could accept the extreme cruelty and intense suffering he witnessed and endured. He saw his worst fears realized when the first edition was met with indifference. Then, late in 2014, after an Amsterdam-based publisher offered to reprint Outcry, Steinberg's work had found its public. The next few months were among the happiest in Steinberg's long life, as he read reviews that came pouring in from around the world. In 2015, an audio version was recorded with his son Gary which enabled him to reach even more people. 
Not long after the book's republication last year, it shot to the top of Amazon's listings, where it has remained ever since. Emboldened by the book's success, Steinberg felt secure enough to be able to return to Germany for the first time in April 2015, when, accompanied by family members, he made an emotional visit to Dachau, one of four concentration camps where had been interred.  
Seven months later, Steinberg died, having at last laid to rest the demons that for so long had haunted him. "Some Holocaust survivors are never released from a lifetime of pain until death frees them," says Gary Steinberg. "My father was able to die in peace, secure in the knowledge that he had at last been able to tell the world his extraordinary story." 
The audio version of Outcry, read by Manny Steinberg's surviving son Gary Steinberg, is available on iTunes, Audible and Amazon. Electronic versions are available for Kindle on Amazon, as well as in paperback.
The direct link to get Outcry is: http://getbook.at/outcry
About the Formats: Outcry, by Manny Steinberg is available on Amazon in paperback or Kindle eBook (179 pp) in English, French, Chinese, Czech and German (Spanish forthcoming) and audio (English only). ISBN: 978-9082103137
About the Publisher: Amsterdam Publishers is owned by Liesbeth Heenk, Willem de Zwijgerlaan 14, 2341 EJ Oegstgeest, The Netherlands tel. +1 31 6 51858260; info(at)amsterdampublishers(dot)com
Publicity Contacts: All requests, email Gary Steinberg at gary_steinberg(at)mac(dot)com