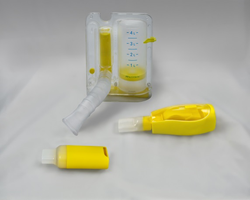 It's our goal at D R Burton to win the war on healthcare acquired pneumonia and respiratory-related readmissions.
(PRWEB) June 20, 2016
D R Burton Healthcare Products LLC, makers of respiratory products and other medical devices, is attending the American Association of Respiratory Care (AARC) Summer Forum in Ponte Vedra Beach, FL on June 26-27, 2016. D R Burton is a medical device innovator driven by unique clinical perspective. This perspective, combined with superior product research and development along with quality manufacturing, provides customers with a world class user experience.
D R Burton was founded by Dr. Joyce Burton, physician, respiratory therapist and engineer. Her unique background and experience places a high value on patient usability and improved clinical outcomes. This is demonstrated in the D R Burton iPEP™, an incentive Positive Expiratory Pressure system combining the inspiratory capacity measurement associated with an incentive spirometer along with the benefits of oscillating positive expiratory pressure (OPEP).
Dr. Joyce Burton explains "There is an unmet need to prevent pneumonia in high risk patients, such as postoperative and patients with increased mucous production, which requires a simple improved clinical tool." The low cost iPEP combines two standard of care therapies and revolutionizes PEP therapy with metrics. With the iPEP, Healthcare providers can measure patient inspiratory capacity for exhalation effort during oscillating PEP therapy.
Burton adds, "This simple innovative device is designed to reduce the risk of not only hospital acquired pneumonia, but also reduce risk of pneumonia post discharge. D R Burton provides a palm-sized OPEP module, PocketPEP™, to transition from the hospital to the patient home for continued therapy post discharge. According to Burton, "it's our goal at D R Burton to win the war on healthcare acquired pneumonia and respiratory-related readmissions."
The D R Burton patent-pending products are awaiting approval, but are not FDA approved, and will be displayed for clinical survey feedback only at the AARC Summer Forum. D R Burton invites clinicians to discuss these products and other innovative concepts at the AARC Summer Forum on June 26-27, 2016.