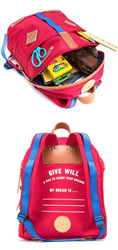 New York (PRWEB) June 20, 2016
Give WILL, a program established by Will Leather Goods designed to support underfunded schools across America through in-kind backpack donations announced their donation and support of The New York Times HigherEd Leaders Forum on June 20 and 21. Will Leather Goods will present the 400 backpacks to the who's who of senior leaders of accredited U.S. colleges and universities at the forum in an effort to encourage these authorities to better help support students' college pursuits and dreams.
"With our Give Will initiative supporting The New York Times HigherEd Leaders Forum, it provides us a venue to connect with education professionals and leaders who are working every day to change the odds for kids so they make it to college," said Will Leather Goods Founder Will Adler. "We are proud to be engaging with the attendees of the Forum to help us understand how Will Leather Goods, who is passionate and dedicated to this initiative, work with schools and teachers to lower the barriers to higher education for kids at risk."
IT'S MORE THAN A BAG—IT'S A PLACE TO HOLD YOUR DREAMS.
Established by CEO & Founder Will Adler, the Give Will initiative is a get-and-give program that donates one backpack to a child in need for every purchase of a Give Will Collection item. The company's goal is to donate 500,000 bags by 2025 to underfunded schools across America. Each bag will be filled the everyday school essentials that they need as well as space for something more: their dreams. Children are encouraged to write their goals directly onto the bag and then carry that inspiration with them every day. Give WILL has already inspired more than 8,500 children across the country.
Launched in 2013, Give WILL is a corporate and community collaboration with a variety of ways to help and support the company reach their goal of donation 500,000 backpacks, including:

Make a Purchase - Purchase from the Give WILL Collection and we will give a bag through Give WILL.
Nominate a School - Call or email us to tell us about a deserving school or student you know.
Volunteer - you can be there to witness what happens when you deliver a bag of inspiration to a deserving child.
Donate - help us fill the bags with the important school supplies and essentials that kids need.
Attend an Assembly - help us plan and pull off these life-changing events.
For more information and how to support the Give Will program, please visit http://www.WillLeatherGoods.com.
ABOUT WILL LEATHER GOODS
Based out of Eugene, Oregon, the family owned and operated business offers bags, home goods, and other accessories guaranteed to last a lifetime. From its humble beginnings as a small belt stand started on the boardwalk of Venice Beach, California in 1981, Will Leather Goods has evolved into a brand that is recognized for uniting natural leathers with artisan textiles discovered during William's travels around the world. Will takes inspiration from a continuing journey in the world of leather craftsmanship. Discover Your Will. For more information, visit http://www.willleathergoods.com.
###
Media Contact: Jason Brown, jbrown(at)publiccitypr(dot)net, 248-252-1687
Facebook: http://www.WillLeatherGoods.com/WillLeatherGoods
Twitter: http://www.WillLeatherGoods.com/WillLeather
Instagram: http://www.WillLeatherGoods.com/WillLeatherGoods