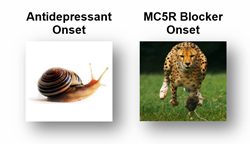 Because there are so many concerns about anxiolytics and antidepressants, we want to make them obsolete!
College Station, Texas (PRWEB) June 20, 2016
Akhu taps the crowd on June 20 at 6 PM CT to develop medicine expected to be faster, more effective, and safer than anxiolytic and antidepressant drugs. The Indiegogo campaign to raise $100,000 will help prepare a prototype medicine for use in humans.
Current Treatments
Anxiety and depression are leading causes of death and disability worldwide.
Anxiolytic drugs are used to treat anxiety, but they are:

Addictive
Potentially harmful to the brain
Antidepressant drugs are used to treat both disorders, but many people do not respond to them. If they do respond, the benefits are typically:

Very slow onset
Modest effectiveness
Harsh side effects
Treatment in Development
Akhu has an exclusive, worldwide license to develop blockers of the melanocortin-5 receptor (MC5R) to treat anxiety and depression. MC5R blockers outperform anxiolytics and antidepressants. For example, in animal models of anxiety or depression MC5R blockers are:

Highly effective
Rapid-acting
Without obvious side effects
Achieving the campaign goal will help Akhu relocate to a major biotech community and continue FDA-required work to prepare its prototype medicine for testing in humans.
How to Participate
Participate in any of four ways: (1) Make a donation of $10 or more; (2) Share links to the campaign page and campaign video through email and social media; (3) Leave comments or questions on the campaign page or Akhu's website; and (4) Follow us on social media.
Rewards for Donations: There are six levels of rewards, including social media shout-outs and Akhu T-shirts. Top-level donors will receive acknowledgement in a research publication and a 10% contribution in their names to the Web of Benefit, which helps survivors of domestic violence transition to self-sufficiency.
Safe Harbor Statement
Some statements made here may constitute forward-looking statements under securities laws. Such statements are based on projections, future expectations, and assumptions concerning factors, risks, and uncertainties that could significantly affect anticipated results and, accordingly, may cause actual results to differ materially from those expressed in the forward-looking statements. The statements made herein are not guaranties of future performance.