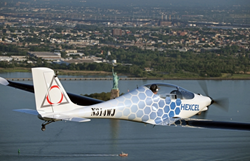 Calverton, New York (PRWEB) June 20, 2016
For the first time ever, a locally-built, ground-breaking solar, electric and wind-powered aircraft successfully landed at New York's John F. Kennedy Airport after a 200-mile flight.
The history-making flight and landing marked the first time that the revolutionary Luminati Substrata solar electric aircraft — built at Luminati headquarters on Long Island — landed successfully at New York's landmark airport. Also landing successfully was the Solar Impulse 2, a Swiss-based solar-powered aircraft on a round-the-world journey.The two solar teams were greeted by aviation workers, law enforcement, pilots, and ground personnel excited to witness this giant step for the future of aviation.
Luminati's Substrata is a 400-pound solar electric aircraft with a 45-foot wingspan. Smaller and more efficient than the giant Solar Impulse 2, the Substrata employs a ground-breaking blend of solar and wind-harvesting technologies which enables the aircraft to do what the giant Solar Impulse 2 does at a mere fraction of its size. Essentially, the Substrata extracts energy from any wind gradient, which allows the craft to be powered by relatively miniscule battery packs.
Weather conditions were perfect for yesterday's flight. After landing, the Substrata took off from JFK, coasted over the Verrazano Bridge, flew over Governors Island and culminated in a photo shoot with Lady Liberty before returning home to the Calverton, Long Island headquarters. Luminati CEO Daniel Preston followed in a chase helicopter, maintaining constant communication with test pilot Robert Lutz, who relayed systems data for evaluation. It was an incredible day for this new generation of solar powered aircraft, with wind energy harvesting performing at optimum levels.
About Luminati: Founded in 2015 by inventor and CEO Daniel Preston, Luminati Aerospace is based in the former Grumman Naval Base at Calverton on Long Island. The company's skilled team of scientists, engineers and aerodynamicists from all corners of the aviation industry are working to set a new standard in aircraft manufacturing, focused on perpetual, solar electric flight as a platform for commercial Internet and government ISR (Intelligence, Surveillance, and Reconnaissance) applications.