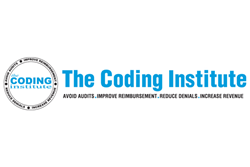 The Book Is Filled With Ideas, Reasons, Whys And Wherefores, For Thorough And Complete Preparation For A Successful Job Interview…Everyone Can Learn Something New, Different Or Unexpected." Patricia Zubritzky, BS, CRCE-I
Durham, NC (PRWEB) June 21, 2016
The Coding Institute, LLC, announces the publication of Master the Interview and Land the Job, slated for June 2016. Master the Interview and Land the Job author Patricia Zubritzky, BS, CRCE-I, has interviewed hundreds of job candidates during her 30-year healthcare career. Her experience taught her that coders and billers have unique concerns that are not addressed by "generic interview questions and answers." To fill this need, Master the Interview and Land the Job covers common coding and billing interview questions with rationales and answers, salary negotiation tips, creating a social media presence, responding to difficult questions, interview preparation tips, avoiding common interview mistakes, how to conduct a job search, and more.
According to Zubritzky, candidates may encounter "illegal interview questions, fail to sell themselves during the interview, or accept a lower salary than necessary because they lack both confidence and knowledge of the interview process." She gave the example of the need to understand the employer's rationale for interview questions, stating that this "gives candidates insight into the reasons behind the questions. Everyone's circumstances are different. Having an idea of why the employer might be asking the question can help the individual tailor his or her answer to highlight particular skills and abilities and stand out as the best candidate for the job."
Master the Interview and Land the Job includes checklists so the reader doesn't miss a step, and a note section along the side of each page gives candidates a place to quickly jot down important points or inspirations as they read. The book is the only one of its kind on the market, tailored specifically to coding and billing professionals or beginners just entering the field. Zubritzky explains that the book "from start to finish is filled with ideas, reasons, whys and wherefores, for thorough and complete preparation for a successful job interview. Whether a newbie or a pro, everyone can learn something new, different or unexpected."
About The Coding Institute
The Coding Institute is dedicated to offering quality products and services to help healthcare organizations succeed. TCI is primarily focused on providing specialty-specific content, code sets, continuing education opportunities, consulting services, and a supportive community of healthcare professionals and experts. For more information, visit TCI at: http://www.codinginstitute.com/about-us.