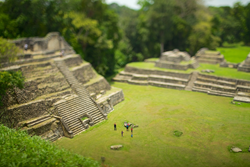 Cultural tourism gives visitors a deeper understanding and appreciation of the world's rich cultural diversity
San Ignacio, Belize (PRWEB) June 22, 2016
A recent archaeological discovery at the ancient Maya ceremonial centre of Xunantunich highlights the Chaa Creek area's rich history while serving as a reminder that many cultural treasures are still waiting to be discovered throughout Belize, according to the Belizean eco resort.
The find also highlights the importance of cultural tourism for developing countries, Brion Young, of The Lodge at Chaa Creek's Belize Natural History Centre, said.
"When you consider how densely populated the area around Chaa Creek and Xunantunich was, and how abruptly the ancient Maya civilisation collapsed, its no wonder we keep uncovering so many artefacts," he said, "and there's no doubt that there are still many other cultural treasures waiting to be discovered here and throughout Belize."
Mr Young was referring to the discovery of tools and other implements unearthed by a team of Belizean and American archaeologists from Northern Arizona University during June 2016.
However, the discovery of a carved stone tablet that has filled a gap in an important piece of the area's history and chronology is causing particular excitement among the world's Mayanists and Maya researchers, he said.
Such sculptures, known as stelae, or stela in the singular, were carved and displayed throughout the Maya Empire to commemorate the deeds of royalty, record significant events and celebrate kinship and other ties between various city-states. They can be found throughout Belize as well as in Mexico, Guatemala, Honduras and El Salvador
The recently discovered Xunantunich stela contains glyphs, or hieroglyphic inscriptions, precisely dated the second of December 638 AD which commemorate the death of Lady Bat Ek, the wife of the ruler of the ancient Belize Maya city of Caracol, also located in the Cayo District some 40 miles south of Xunantunich and Chaa Creek, according to Dr John Morris, the Director of Belize's Institute of Archaeology.
What makes the find so significant, Dr Morris said, was that the glyphs fill in missing pieces of an important chronology, and help explain the role Xunantunich played in the complex geopolitical relationships of the Maya's rulers.
"This finally tells us the remaining puzzle why Xunantunich… became such a powerful city in this area," Dr Morris said.
Mr Young explained that archaeologist have for years been attempting to clarify the roles that Xunantunich and nearby Chaa Creek, situated between the ancient metropolises of Caracol and Tikal in present day Guatemala, played in the history of the ancient Maya civilisation.
"We've always known that neighbouring Xunantunich, with its beautifully preserved pyramid, ball courts and other ceremonial and administrative structures, held a very important place in ancient history, and this recent find will go a long way in explaining that.
"Chaa Creek, located on the banks of the Macal River, which was part of an aquatic network connecting the interior to the Caribbean Sea, was an important agricultural and commercial centre in its own right, and we are continually finding new information that helps explain how it functioned, and how the ordinary Maya of the time lived.
"It's a fascinating, very dynamic history which continues to enthral people today," Mr Young said. "And considering the role environmental and geopolitical factors played in the collapse of the ancient Maya civilisation, that history may well have lessons for us today," he added.
Mr Young explained that the Belize Natural History Centre, traditional Maya organic farm, Maya medicinal plant trail, and other cultural attractions at Chaa Creek continue attract a large number of international guests and researchers, as well as local students. Over 70 ancient Maya archaeological sites have been recorded within the eco-resort's 400-acre private nature reserve.
The interest of visitors in Belize's rich cultural heritage, combined with the assistance of overseas universities, NGOs and other researchers, is crucial to archaeology in a small, developing country like Belize, Mr Young explained.
As Elodio Aragon Jr, Belize's Minister of State in the Ministry of Education, Youth and Sports, said, "These are some of the things I would like to see more being done in Belize because our heritage, the Maya heritage in this country is enormous. We don't have the kind of money to unearth every single Maya mound… but working in collaboration with universities and with our people here we are able to slowly do the kind of work that needs to be done in Belize in terms of our Maya sites."
Chaa Creek also recently announced a new all-inclusive Belize vacation package that takes visitors on a cultural tour throughout Belize. "It's very much a hands-on learning adventure that highlights the cultures of not just the Maya, but other groups such as Mestizo, Garifuna, Creole and even the German speaking Mennonites as well," Chaa Creek co founding owner Lucy Fleming said, explaining that education has always been an important component of the sustainable tourism and responsible travel Chaa Creek promotes.
"As the world becomes smaller, understanding, and the tolerance it fosters, becomes more and more important," she said. "Cultural tourism gives visitors a deeper understanding and appreciation of the world's cultural diversity, and also supports efforts in host countries to support endeavours like archaeological research.
"I can't think of a better example of a win-win situation," Ms Fleming said.
The Lodge at Chaa Creek is a multi award winning eco resort set within a 400-acre private nature reserve along the banks of the Macal River in Belize.
ENDS