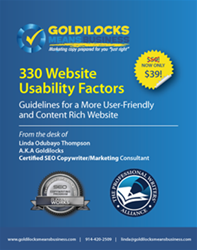 (PRWEB) June 21, 2016
Once upon a time, Linda Odubayo Thompson, A.K.A. "Goldilocks" was a self-employed Accountant/Financial Advisor and was committed to helping small businesses to maximize their potential growth.
After 30 years of hard work, Linda became a Copywriter and earned a SEO Certification. Goldilocks saw that so many small businesses could not afford to hire a good Designer/Copywriter, but knew that it was critical that their online presence was important. As a result, this Website Usability Handbook was born and encompasses over 250 pages offering guidelines that will enhance any website.
"So what makes this Handbook so special and why should I consider purchasing it?" someone might ask.
Whether you are…

Building your Website from scratch and have no idea where to start and need a road map
Editing an existing site that just needs to be tweaked a little here or there.
Or maybe your Website needs a major overhaul!
Who other than Goldilocks knows that?
Baby Bear loves the bite-sized pieces value of this e-Handbook. It keeps his attention focused and prevents him from feeling overwhelmed or frustrated. Plus, it's easy to come right back to this digital book after naps or playing with his new Website toys. He keeps a copy on his desktop so that he can revisit any topic whenever he needs more information.
Mama Bear likes the easy-to-follow recipes. The organized layout of the Book speaks her creative language. It's so easy to follow the intuitive step-by-step instructions.
Daddy Bear, the Big Picture kind of bear, growls, "Just show me the way, and I'll follow." The many hands-on examples keep him learning until he can puff out his chest with pride while his buddies are clicking around his site and is the talk of the other bear caves in his community.
Goldilocks and her three guru bears invite everyone to come and visit them and find out more details about this comprehensive e-Handbook and a book launch discount of 33%, along with some other cool free bonuses!