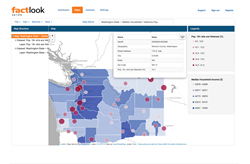 Anyone who can copy and paste a column of data from a spreadsheet can create a thematic map.
San Francisco, California (PRWEB) June 21, 2016
Today, FactLook, Inc. formally launched its online thematic mapping service. The data visualization service is set to disrupt the GIS industry by providing even the most casual computer user with a simple-to-use tool for creating sophisticated thematic maps.
Using FactLook.com, users can quickly and easily take data from a spreadsheet and turn it into a thematic map. (A thematic map is designed to show a particular theme — social, political, economic, etc. — connected with a specific geographic area, such as a state, county or ZIP code.)
Who is likely to use FactLook? According to Glenn Rapp, the software startup's CEO, "FactLook is for anyone who wants to create a thematic map quickly and without having to purchase and then learn a complex and costly app.
We've designed FactLook so that anyone who can copy and paste a column of data from a spreadsheet can create a thematic map that helps tell their data's story," says Rapp, "That story could be the spread of an influenza outbreak across counties, a comparison of educational achievement levels and voting trends by congressional district, or the sales performance at the department level of a chain of retail stores across multiple states and regions."
After registering to use the service and selecting a monthly subscription plan, users begin building a thematic map by selecting a geographic area on which to display their data. The user then copies data from their spreadsheet (or manually enters the data) into the FactLook wizard which then displays the data on the user's selected geography. The user can adjust styles and colors, legends and other features to create a visually-compelling thematic map.
The service currently offers U.S.-based geographies only. Rapp says that geographies for additional countries are expected to become available later in 2016. The current U.S. geographies are:
State
County
ZIP Code
Congressional District
Census Tract
Custom Area
And two geocoding options: Street Address and Latitude/Longitude.
FactLook users access the service via one of three subscription levels: Basic, $10 per month; Standard, $35 per month; and Pro, $120 per month. The levels are based on the amount of data the user can import into FactLook. An enterprise version of FactLook for corporate and other multi-user organizations is currently in development.
About FactLook, Inc.: FactLook, Inc. is a privately-held San Francisco-based data visualization company. The company's core product, FactLook.com, provides individual and enterprise users with an affordable and easy-to-use solution for building sophisticated thematic maps. Further information is available at http://www.factlook.com.