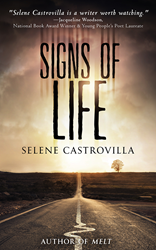 "Signs of Life toes the line between romance [and a] thriller, and readers expecting superficial elements may find its story line disturbing, thought-provoking, and even cage-rattling, at points. But, romance is like that." — Midwest Book Review
Long Island, NY (PRWEB) June 21, 2016
"Signs of Life toes the line between romance [and a] thriller, and readers expecting superficial elements may find its story line disturbing, thought-provoking, and even cage-rattling, at points. But, romance is like that." — Midwest Book Review
In the second installation of Selene Castrovilla's award-winning Rough Romance Trilogy, readers are made to peer behind the carefree façade of modern teen life. With grit and brutal honesty, Signs of Life examines young love amidst the struggles of youth: pain, peer pressure, and domestic abuse. This time the stakes are even higher, as Joey forces himself to move forward while Dorothy is frozen in place. But when he learns of a devastating decision, Joey races to find her before it is too late. Truth, consequence, repercussion and modern medicine collide as pieces converge in this psychological, thrilling story. Can love really conquer all?
Praise for Rough Romance Book 1, Melt:
"Melt is no casual romance and no surface exploration of connections; but a deeply revealing, sometimes-disturbing saga of a damaged boy and a loving girl who come together." — Midwest Book Review
"[Melt is a] fresh, emotionally complex bildungsroman of young American love that looks long and hard at violence, and at what can overcome it." — Kirkus Reviews
Attend the Signs of Life book launch and #WeNeedDiverseBooks panel on Wednesday, June 22nd from 6:00-8:00 PM at the Books of Wonder Bookstore (18 W 18th St, New York, NY 10011). Panel Discussion: "Beyond the Label: What Does 'Diverse' Really Mean?" with distinguished YA authors Tracey Baptiste, Laurent Linn, Brendad Kiely, and Gae Polisher. Free and open to the public.
Selene Castrovilla is an award-winning young adult novelist and children's nonfiction author. Her third young adult novel Melt, Book One of the Rough Romance Trilogy, was the recipient of six honors including the SCBWI Spark Award, the IndieReader Fiction Book of the Year and the Bronze IPPY Medal for young adult fiction. Connect with her at SeleneCastrovilla.com; Twitter @SCastrovilla, and Facebook http://facebook.com/SCastrovilla.
The Rough Romance Trilogy is available at Amazon (http://amzn.to/28J7t2o), Barnes & Noble, and other fine book stores.
June 2016 | Last Syllable Books | US $2.99 Kindle, $11.99 PB | ISBN: 978-0-991626-14-4 | 406 pages | YA Fiction | Romance | Ages 12+