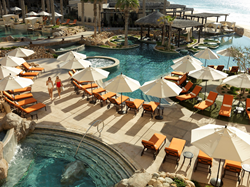 Hotels have become true destinations, with interior and exterior beauty, thoughtful accommodations, impressive architecture and real character – making them the perfect vehicle for photography
Miami, FL (PRWEB) June 24, 2016
In recognition of his award-winning work as a hospitality photographer, luxury hotel & resort photographer Antonio Cuellar was recently invited to serve as hotel judge for "Luxury Travel Guide: An Insight for the Affluent Traveler." The 2016 guide showcases the sleekest and most stylish hotels in Europe. Two other judges for the guide include Travel Channel TV hosts Shane Green Fom "Resort Rescue" and Anthony Melchiorri from "Hotel Impossible".
"I am honored to be named a hotel judge for this exclusive guide and to do what I do every day," Cuellar said. "Hotels have become true destinations, with interior and exterior beauty, thoughtful accommodations, impressive architecture and real character – making them the perfect vehicle for photography. I love what I do every day and enjoy the chance to see the real through the lens of the camera, capturing interest and beauty along the way."
In addition to his work on the "Luxury Travel Guide: An Insight for the Affluent Traveler," Cuellar is working on a book of luxury castle hotel accommodations in Europe, to be published in early 2017.
Cuellar specializes in creating images for luxury hotel marketing. Fluent in English and Spanish, Cuellar's hotel photography career has taken him to the United Arab Emirates, Ireland, UK, Mexico, Africa and Italy, among others.