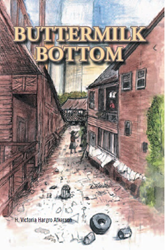 "Although we have made progress, racism hangs high in America, especially in urban areas where opportunities to succeed grow fewer and fewer," Atkerson said. "Equality and justice is still a dream for a person of color."
PHILADELPHIA (PRWEB) June 22, 2016
The Civil Rights Act of 1964 has long been in effect, but the consequences of segregation still linger in 2016. Current events such as the Black Lives Matter Movement remind us that the experiences of people who grew up in segregation are still relevant and unresolved.
H. Victoria Hargro Atkerson's novel Buttermilk Bottom places the reader in that notorious and decrepit community in Atlanta during the Jim Crow era to experience life under the system of separate-but-equal laws.
"Segregation had restrictive and debilitating consequences on black families in the South, many of which are still felt today," Atkerson said.
Atkerson grew up in Atlanta amidst the Civil Rights movement and witnessed the effects of segregation on African-American communities firsthand.
"Although we have made progress, racism hangs high in America, especially in urban areas where opportunities to succeed grow fewer and fewer," Atkerson said. "Equality and justice is still a dream for a person of color."
For more information, visit http://hvictoriahargroatkerson.com/
Buttermilk Bottom
By H. Victoria Hargro Atkerson
ISBN: 978-1-4568-8438-3
Available in softcover, hardcover, e-book
Available on Amazon, Barnes & Noble and XlibrisUS
About the author
H. Victoria Hargro Atkerson resides in Philadelphia, Penn., with her husband of 48 years. She is an elder of Oak Lane Presbyterian Church and is also the author of "Walking Among the Kudzu" and "Stones Along the Path, Part 1 & 2".
###
**FOR IMMEDIATE RELEASE**
For review copies or interview requests, contact:
Ryan Hallquist
615.866.8216
rhallquist(at)bohlsengroup(dot)com