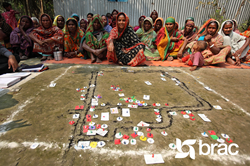 "This recognition is truly an honor. BRAC staff work tirelessly to both innovate and apply proven solutions at scale... It is wonderful to see this dedication recognized." - Sir Fazle Hasan Abed
Geneva, Switzlerand (PRWEB) June 21, 2016
BRAC, an international development organization dedicated to spreading solutions to poverty worldwide, today was ranked the number one NGO in the world by the Geneva-based NGO Advisor, an independent media organization committed to highlighting innovation, impact and governance in the nonprofit sector. BRAC clinched the top spot as part of the 2016 Top 500 NGOs World rankings.
"This recognition is truly an honor," said Sir Fazle Hasan Abed, founder of BRAC. "BRAC staff work tirelessly to both innovate and apply proven solutions at scale to empower people worldwide living in poverty. It is wonderful to see this dedication recognized."
Each year, NGO Advisor researches, evaluates and ranks NGOs from around the world, highlighting the best in their annual Top 500 NGOs World list. NGO Advisor announced the new rankings on its website Friday, June 17.
Of more than 500 organizations worldwide, NGO Advisor placed BRAC first in its international category, based on its impact, innovation and sustainability. BRAC was praised for its holistic approach to fighting poverty, treating it as a system of interrelated barriers that must be addressed concurrently. The ranking also highlighted the organization's history of designing and implementing solutions at scale.
"From the perspective of our ranking criteria – impact, innovation and sustainability – BRAC ticks every box. Over the course of its decades-long history, BRAC has assumed an unparalleled position in the crowded field of international development, all while remaining committed to a holistic, evidence-based approach to poverty reduction," said Jean-Christophe Nothias of NGO Advisor in a statement.
BRAC, formerly Bangladesh Rural Advancement Committee, was founded in Bangladesh in 1972, and today is a global leader in creating opportunities at scale as a means to end poverty. It is the world's largest non-governmental development organization, touching the lives of an estimated 138 million people in 12 countries using a wide array of tools such as microfinance, education, healthcare, legal rights training and more to create opportunities for people most in need.
"As we noted last year, BRAC is in many ways a microcosm of the entire international development sector…gaining in independence from donor influence each year. It covers almost 80 percent of its $684 million income through a burgeoning portfolio of catalytic social enterprises – a clear trend positioning the organization in an enviable position of financial and programmatic sustainability," said NGO Advisor on its website.
NGO Advisor combines academic rigor with journalistic integrity and autonomy, evaluating each organization based upon its objective merits. Co-founded by Jean-Christophe Nothias, a journalist formerly with The Global Journal, the rankings methodology was first developed in 2009.
Nothias has since enlisted experts at The University of Geneva and partners from the nonprofit sector to improve the evaluation metrics. Today, NGO Advisor presents its findings to an international audience of donors, volunteers, journalists, researchers, diplomats and nonprofit leaders to showcase best practices and mirror the evolving values of the global community.
The new rankings include several notable organizations. The Skoll Foundation, a social entrepreneurship foundation based in Palo Alto, California, claimed the third spot, and Médecins Sans Frontières, also known as Doctors Without Borders, the number two. The Danish Refugee Council and Oxfam rounded out the rankings in the fourth and fifth spot, respectively. Last year, BRAC was ranked number two, after initially taking the first place spot two years ago.
Notes to the editor:
About NGO Advisor
NGO Advisor is a Geneva-based independent media organization that produces the Top 500 NGOs, a series of reviews of the best non-profit organizations from around the world. Currently on the fourth edition, NGO Advisor is unique in publishing such a ranking. They combine sound journalism with comprehensive research to highlight innovation, impact, and governance in the nonprofit sector.
ABOUT BRAC USA
BRAC USA is an independent, US-based affiliate of BRAC formed in 2006 to advance and support BRAC's global mission to create opportunities to unleash human potential and end poverty.