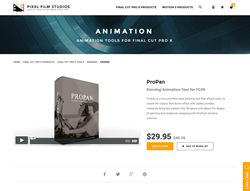 With ProPan FCPX users can use a documentary style panning tool that will create a classic Ken Burns effect which will bring your photos life
Aliso Viejo, California (PRWEB) June 21, 2016
"With ProPan FCPX users can use a documentary style panning tool that will create a classic Ken Burns effect which will bring your photos life," said Christina Austin - CEO of Pixel Film Studios.
ProPan is a documentary style animation tool created exclusively for use within FCPX. With ProPan users can instantly transform a regular picture into a 3-dimensional scene with parallaxing effects. ProPan is the perfect complement for slideshows, documentaries, and Youtube videos.
ProPan features a built-in masking tool that allows users to expertly cut-out subject matter with the click of a mouse. Start by clicking on the screen to create points to surround the subject. Double-click a point to change its interpolation from linear to curved. "Command + Double-click" to delete a point. Double-click the line to add a point. Pixel Film Studios' built-in masking tool makes it easy to get a crispy cut-out.
ProPan features intuitive camera and cut-out options that allow users to create parallaxing effects with the drag of a mouse. Utilize the "Cam Pos. Rate" and "Cut-Out Rate" controls to adjust the animation speed of the camera and cut-out respectively. Create incredible effects without a single keyframe with an easy-to-use interface.
In addition to positional panning controls, editors can achieve sweeping effects with "Camera Rotation Rate" controls. Achieve X, Y, and Z rotations with three simplistic slider controls. Easily utilize these sliders for added camera dynamics in any scene. This Pixel Film Studios plugin makes parallaxing easy in Final Cut Pro X.
Established in 2006, Aliso Viejo, California-based Pixel Film Studios is an innovative developer of visual effects tools for the post-production and broadcast community. Their products are integrated with popular non-linear editing and compositing products from Apple FCPX. Apple, the Apple logo, Mac OS X, and Macintosh are registered trademarks of Apple Inc. in the U.S. and/or other countries. All other trademarks and trade names are the property of their respective owners.