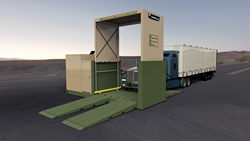 The DAS is 100% automatic and does not require anyone to attend the unit during operation
Salt Lake City, Utah (PRWEB) July 12, 2016
Through high demand due to concerns about spreading of contaminants, Hydro Engineering, Inc is proud to announce a brand new product that will help alleviate biosecurity hazards brought into poultry farms, pig farms, and cattle farms by vehicles. Hydro Engineering, Inc. introduces the Disinfectant Application System, a modular vehicle wash and disinfection system that utilizes a full 360 degree tunnel spray that coats vehicles in disinfectant all within a compact and portable unit.
Through many years of development and input from local producers, Hydro Engineering, Inc. has created the most versatile and dependable vehicle wash and disinfection on the market. The Disinfectant Application System uses simple technology, including a standard Hydropad wash rack, a Hydrokleen filtration unit, and chemical applicator that automatically runs via a photo-eye detection system. Hydro Engineering's technology - known the world over for their durability and portability - is integrated into the DAS making it the most powerful, compact, and self-contained tool to combat pathogens and disease that threaten farms and feed mills.
The benefit of using the Disinfectant Application System as opposed to other technologies is immediately apparent. The DAS is 100% automatic and does not require anyone to attend the unit during operation, crucial components are freeze protected which allows for year-round usage, it is completely transportable, which allows each farm to custom tailor their biosecurity strategy, and every piece of equipment is contained in a single unit. Most importantly, and in many cases, the DAS does not require any permitting or additional construction.
Contact the experts at Hydro Engineering, Inc to get more information on how to increase biosecurity today!
http://www.hydroblaster.com
801-972-1181
865 W 2600 S
Salt Lake City, UT 84119