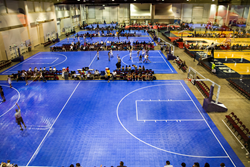 AAU deemands the highest perfomance and player safety for their competitors. SnapSports flooring meets AAU's highest standard.
Salt Lake City, Utah (PRWEB) June 23, 2016
Competitive basketball is in full swing as summer descends on the Rocky Mountains. AAU Big Mountain Jam, one of the largest basketball tournaments in the western states, returns to the South Towne Expo Center June 30 – July 2, 2016. Over 450 Teams comprised of boys and girls, grades 3rd to varsity, will compete during the 3 day tournament on 32 qualifying and championship courts featuring the multi-patented SnapSports® BounceBack® surfacing with ShockTower® Technology, the industry's top rated performance and safe play basketball surface. ShockTower is the world's only modular sports flooring with independent shock absorbers, which ensure a consistent playing surface and an added level of 'cush' to reduce impact on athletes joint and limbs.
"Over the years, we've used nearly every indoor modular sports surface, and SnapSports products are the best in the industry. These young athletes can play upward of a dozen times during an event, but with the incredible structural support of ShockTower, the players are never fatigued from floor impact." - Matt Williams, AAU, Second Vice President, 'Jam On It' President
The 'Jam On It' Big Mountain Jam, All Under 1 Roof, lives up to its name by combining 3 events into one fun-filled weekend. The Big Mountain Jam Team Camp, AAU Tournament, and High School Team Tournaments will fill the 200,000 square foot South Towne Exposition Center. Due to the large demand in 2015 and sold out venue, the 2016 Big Mountain Jam will also utilize courts at Jordan High School, just south of the Expo Center. Also included this year is a "No Sunday Play" tournament that will be held the weekend before, allowing more teams and youth to be able to participate.
SnapSports, a Utah based sports flooring and outdoor court manufacturer, is delighted to be a part of the basketball excitement, bringing the action to their backyard for another year. Having been chosen for its unmatched durability, ease of installation, high performance, and safe play, SnapSports is proud to continue their long-standing partnership with AAU 'Jam On It' as the 'official' basketball court flooring.
"SnapSports is thrilled to once again be chosen as the 'Official Court' of this years AAU Big Mountain Jam. AAU demands the highest performance and player safety for their competitors. SnapSports surfacing, with multi-patented technologies, is the only modular sports flooring that meets AAU's highest standard" Jorgen Moller – CEO, SnapSports Athletic Surfaces
The team at SnapSports have been engineering, manufacturing, and providing the world's leading outdoor multi-courts, basketball courts and modular sport surfaces for nearly four decades. As the pioneers of the modular sports surfacing and outdoor multi-court industries you play on today, the family at SnapSports continues to develop the most advanced, multi-patented, modular sport surfacing and outdoor multi-courts for top athletes the world over.
SnapSports manufactures 24/7 in their 180,000 square foot ISO 9001:2008 Quality certified facility in Salt Lake City, Utah. SnapSports is the Official Court of AAU Basketball Jam On it, AAU All Under one Roof, The Big South, The United States Futsal Federation, USA Basketball, Big Mountain Jam, 2016 NBA Centre Court, NBA Nation, 2015 NBA House, NBA 3X and USA Team Handball. SnapSports is an official FIBA Technical Partner and has been a proud partner of The Special Olympics, The National Veterans Wheelchair Games, The Volleyball Festival, Gus Macker 3X3, World Police & Fire Games and The National Collegiate Roller Hockey Championship to name a few. SnapSports surfaces are 'Made in the U.S.A. > Played on Around The World™'.