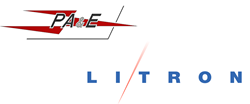 Welcoming Litron into the PA&E family is a great way to celebrate our 40th year in this industry ...
Wenatchee, WA (PRWEB) June 21, 2016
Today, PA&E announced that it has joined forces with Agawam, MA-based Litron, Inc. PA&E is a leading manufacturer of hermetic electronic packaging and interconnect products for the defense, space, energy and medical industries. Litron, Inc. is a leading supplier of laser welding systems, laser sealing/welding/cutting and other manufacturing services aerospace, industrial and medical components.
"Welcoming Litron into the PA&E family is a great way to celebrate our 40th year in this industry," said Nathan Foster, Business Development manager for PA&E. "We have enjoyed a great working relationship with Litron for years, so we are very familiar with their high-quality workmanship and their dedication to meeting customer needs. This new partnership will have a very positive impact on both of our customer bases."
Litron operates out of its Agawam, MA facilities, that include a complete laser systems fabrication division; state-of-the-art Class 10K clean room environment for sealing in an inert environment as well as a full service electronic package fabrication center complete with gold plating and feed-thru integration services.
PA&E operates out of its Wenatchee, WA headquarters that features 100,000+ square feet of manufacturing space - including recently expanded machining capabilities, plating facilities; brazing operations, laser welding and assembly works.
"PA&E has a long history of innovation in this industry, and our core competencies complement each other very well," said Mark Plasse, Litron President. "By combining our forces, we can provide new levels of products and services to each of our customer bases in a simple and seamless manner."
About Litron
Founded in 1997, Litron, Inc. (http://www.litron.com) is a worldwide provider of custom laser systems and a leading supplier to the aerospace, defense, and medical industries for contract manufacturing services in laser welding, hermetic sealing, and hermetic package fabrication.
About PA&E
PA&E (http://www.pacaero.com) is an integrated manufacturer of hermetic electronic packages and interconnect solutions for leading defense, medical, energy and space companies. The company specializes in using unique materials and manufacturing process to bring technically demanding custom product designs to market by optimizing for size, weight, thermal conductivity and electrical performance.
For more information, contact:
Nathan Foster
Business Development Manager, PA&E
nfoster(at)pacaero(dot)com
Mark Plasse
President, Litron
mplasse(at)litron(dot)com