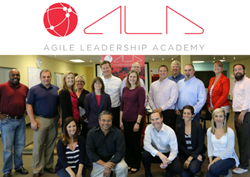 Herndon, Va (PRWEB) June 21, 2016
Global trailblazers in Agile management Sanjiv Augustine and Arlen Bankston launched the fast-paced, graduate style leadership program: The Agile Leadership Academy™. An elite cadre of delegates from Fortune 500s and the federal sector gathered in Herndon, Virginia for the first of four sessions, focusing on Foundations of Lean and Agile Leadership.
The 1.5 day session experience began with a site visit to The Motley Fool, a mature agile organization in Alexandria, Virginia. Participants learned about the Fool's agile journey from Chief Projects Officer Max Keeler. Commenting on the site visit experience, an ALA delegate explained that it was "great to see agile in action." One delegate "enjoyed seeing a team work so differently than our own" and another was intrigued by the Fool's "innovative working model that is evolving in culture and process." The ALA's future site visits will survey a variety of medium to large companies in both the public and private sectors, highlighting those where agile has been deployed both broadly and deeply.
On day two, Sanjiv Augustine and Arlen Bankston led delegates through an intensive day of leadership training and peer working sessions. Delegates took home personalized plans based on the ALA's transformational tools to apply at their organizations for the upcoming quarter. They also signed up for monthly calls with Agile Leadership Academy mentors, to receive personalized coaching as their journeys continue.
For those interested in dropping in for a single session, the highly anticipated Scaling Agility session takes place September 12 and 13, 2016, followed by free attendance to the Agile DC Executive Summit on September 14. While executives may attend a single workshop, those who attend all four workshops will receive the additional credential of ALA Certified Graduate™.
For more information and to register, see agileleadershipacademy.com.