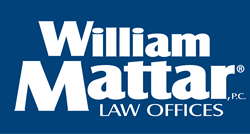 "Law clerks at our firm develop a strong understanding that our focus is on helping people and as practicing attorneys, they will continue that commitment. We are very happy to have them aboard." -William, Mattar Esq.
Buffalo, New York (PRWEB) June 20, 2016
William Mattar law offices is happy to announce the addition of Brendan M. Denz, Esq. and Matthew J. Glose, Esq. to the firm. The attorneys, who have been clerking at the law office, were admitted to practice law on June 20, 2016 and will continue their commitment to the firm's goal of helping clients with their auto injury accidents.
Brendan M. Denz, Esq. has recently graduated from SUNY Buffalo Law School with his Juris Doctor after also attending New England School of Law in Boston, Massachusetts. A Buffalo native, Brendan spent 3 years as a Buffalo Public Substitute Teacher as well as a S.A.B.A.H. instructor helping mentally and physically handicapped children learn how to ice skate.
Matthew J. Glose, Esq. is also a Buffalo native having graduated from University at Buffalo Law School, 2015. Matthew was a trial team member and also participated in an externship at the NYS Liquor Authority while in school. In his spare time, Matthew coaches high school football and enjoys time with family and friends. He models his behavior after the firm's mission of helping as many people as possible.
About William Mattar, PC
For over 25 years, William Mattar has been representing clients across New York State including the Buffalo, Rochester, Syracuse, Binghamton and Albany regions, as well as in Pennsylvania. With a principal office located at 6720 Main Street in Williamsville, NY, William Mattar focuses on auto injury cases for those seriously injured in motor vehicle accidents. Call the William Mattar Immediate Response Team at 444-4444. For more information about the firm, please visit http://www.WilliamMattar.com.