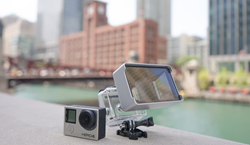 With Vitrima, GoPro users are not just recording a video, but a full experience that can be relived
Chicago, IL (PRWEB) June 21, 2016
Fantem today announced the pre-order availability of Vitrima, the first lens for GoPro cameras that enables 3D video recording. For a limited time, both versions of the Vitrima lens are available for up to 50 percent off the MSRP price, which will be $99 for the lightweight version and $129 for the waterproof version.
With the Vitrima 3D lens, GoPro HERO3 and HERO4 users can enjoy an immersive viewing experience when watching recorded video. The Vitrima lens requires no additional software for playback – once a video has been recorded with a GoPro HERO3 or HERO4, users can download the video directly to a smart device or upload to YouTube for viewing on a virtual reality headset. Recorded video can also be live streamed with a Wi-Fi connection.
"With Vitrima, GoPro users are not just recording a video but a full experience that can be relived," said Colin Marshall, Vice President of Fantem. "We set out to create a 3D lens that not only allows GoPro fans to share their experiences with anyone and everyone, but also is simple to use and affordable."
Vitrima is available in a waterproof lens or a lightweight version. The lightweight Vitrima lens weighs less than half a pound and is only 95mm x 59 mm x 3 m. The lens is housed in tempered glass with high anti-reflection film. The waterproof Vitrima lens is IP67 certified, meaning it maintains full functionally submerged in water under 15cm to 1m in depth.
Starting today, the Vitrima 3D lens is available for preorder on the company's website via the Indiegogo platform at up to 50 percent off the MSRP. With select units shipping immediately, preorders will be shipped to early backers before the end of the Indiegogo campaign in July 2016.
For more information about the Vitrima GoPro camera lens visit http://www.Vitrima.com
About Fantem
Fantem is dedicated to the development of innovative solutions that enhance people's lives. From simplifying the smart home to creating the first ever 3D lens for action cameras, Fantem is re-imaging the technologies that make life more enjoyable. Fantem is based in Chicago with offices and strategic partners spanning four continents. For more information visit http://www.vitrima.com.