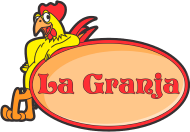 Miami, FL (PRWEB) June 21, 2016
La Granja now has almost 50 locations in Florida to serve as many loyal customers as possible. La Granja continues to provide satisfied customers with their specialties, like Peruvian Rotisserie Chicken, and ceviche, a seafood dish popular in the coastal regions of Latin America.
At all La Granja Restaurant locations, the food is prepared with fresh, healthy ingredients, all at an affordable price. It's a great place to bring the family for a great lunch or dinner, or to pick up a meal to eat at home. There are many menu items and options from which to choose, including combo platters and specials. They serve chicken, beef, pork and seafood combinations, as well as fajitas and sandwiches. There are also family meals that can feed four or more.
The Bartra family established their first La Granja restaurant in 1993 on the island of Aruba and have continued to expand to almost 50 locations in South Florida. They have won numerous awards and recognitions throughout that period. The Bartra family attribute their success to "great teamwork, great customer service, positive attitude and hard work."
La Granja also supports the South Florida community by partnering with grass roots youth organizations like ASPIRA, honoring veterans, and offering scholarships to Florida residents of Hispanic and Latino descent to Palm Beach Community College.
For further information on LaGranja locations, visit https://www.lagranjarestaurants.com/en/locations/. Additional contact information:
La Granja Corporate Office
3907 NW 49th Street Tamarac, Fl 33309
Phone: (954) 968-7988
info(at)lagranjarestaurants(dot)com
http://lagranjarestaurants.com/