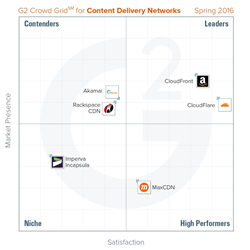 Chicago, IL (PRWEB) June 21, 2016
G2 Crowd, the world's leading business software review platform, today released the Spring 2016 Content Delivery Network (CDN) Grid report to help businesses make the best CDN technology decision. Amazon CloudFront and CloudFlare were named Leaders in the report, receiving strong customer satisfaction scores with a large market presence.
MaxCDN was named a High Performer in the report, earning strong customer satisfaction marks with a smaller market presence score. CloudFlare earned the highest overall satisfaction score, while Amazon CloudFront earned the highest overall market presence score.
The Grid leverages customer satisfaction data reported by authenticated users along with vendor market presence determined from social and public data. Based on a combination of these scores, each software solution is categorized as a Leader, High Performer, Contender or Niche.
Key Findings:

Secure but standard SSL — Reviewers indicated that these SSLs are typically standardized, with custom SSL receiving an average rating of 83 percent.
Cashing in on caching — CDNs excelled with regard to content caching, with both static and dynamic content caching receiving high category averages of 93 percent and 89 percent, respectively. Particularly for static content caching, all products included in this report received ratings above 90 percent.
A case of PoPs — The number and location of Points of Presence (PoPs), while interesting, looks to be a commodity feature. Users commented on vendors who excel on performance, but no vendors were rated poorly on performance, lending evidence towards the notion that PoPs quantity and location are standard features users have come to expect from CDN software.
Interested in integrations — Since CDNs are a standard tool for websites and cloud-based software applications, users stressed the importance of flexible and easy-to-use APIs to easily integrate their product to hosting platforms, web content management tools, or other hosting support tools.
About the Content Delivery Networks Grid report:
The report is based on more than 220 reviews written by business professionals.
Of the 29 products listed in G2 Crowd's Content Delivery Networks category, the ranked products each received ten or more reviews to qualify for inclusion on the Grid.
About G2 Crowd, Inc.
G2 Crowd, the world's leading business software review platform, leverages more than 80,000 user reviews to drive better purchasing decisions. Technology buyers, investors, and analysts use the site to compare and select the best software based on peer reviews and synthesized social data. Monthly more than a half-million people visit G2 Crowd's site. Co-founded by the founder and former executives from SaaS leader BigMachines and backed by roughly $12 million in capital, G2 Crowd aims to bring authenticity and transparency to business technology research. For more information, go to G2Crowd.com.