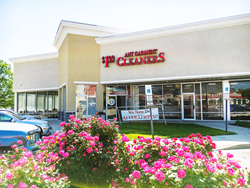 In by 9AM - out by 4PM!
Cherry Hill, NJ (PRWEB) June 21, 2016
Fun fact - women's dry cleaning bills are typically 73% higher than that of men's. Sadly, predatorial tactics at the neighborhood cleaners' counter are predictably unpredictable. For once, Any Garment Cleaners, home of gender-neutral pricing on all services, reveals their industry price gauging tactics targeting women.

Up-charging for the following female garments: linen pants, silk shirts, pants with lining, pleated skirts, beaded dresses, dresses with 2 colors, red pieces.
Female customers entering the cleaners wearing nice shoes, will receive a higher dry cleaning bill.
Female customers driving a European vehicle into the cleaners' parking lot will receive a higher dry cleaning bill.
25% percent off Tuesdays and Wednesdays signage. However, what is the 25% off of…?
And last but not least, the notorious triple charge on female dress shirts because they "are too small to fit on the machine"
At the four Any Garment Cleaners locations in Southern New Jersey, women and men both pay only $1.99 per piece. Since 2001, this upfront pricing approach has made Any Garment Cleaners South Jersey's premier dry cleaning brand throughout Camden and Burlington Counties. No tricks, no gimmicks, always one-low-price, and never an up-charge. All garments in by 9 am are cleaned, pressed, and ready for pickup that afternoon. That's Same Day Service for the Same Low Price!
Lastly, General Manager Kevin proudly declared "The $1.99 brings new clients in, but 15 years. Same Owner. Same Faces. Same price for Women and Men makes them stay!"
Four locations
1. Cherry Hill, NJ
1444 Route 70 in Pine Tree Plaza
(856) 857-1808
2. Pennsauken, NJ
Route 70 & Route 38, With Super Wawa on Rte 38 Side
(856) 320-4439
3. Stratford, NJ
White Horse Pike & White Horse Rd. Across from Lindenwold Train Station
(856) 435-8169
4. Cinnaminson, NJ
1204 Route 130 North just north of Riverton Road
(856) 303-0090