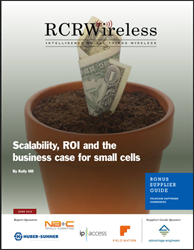 Small cells are finally seeing some much-anticipated momentum, and last year appears to have been a turning point in terms of deployments.
Austin, Texas (PRWEB) June 21, 2016
RCR Wireless News spoke with experts across the wireless infrastructure ecosystem for their views on the evolving business case for small cells, including iGR, Mobile Experts, AT&T, Nokia, ip.access, SpiderCloud, Dell'Oro Group, Anritsu, 451 Research, Huawei, CommScope and more .
The report, entitled "Scalability, ROI and the Business Case for Small Cells", contains insight into the latest market predictions for small cells and how the evolution of small cell equipment and deployment processes are making small cells increasingly financially viable as a network coverage and capacity tool. Small cells are finally seeing a long-anticipated boost in momentum, as network densification begins to take hold in earnest. Whether the strategy involves standalone small cells, consolidated Radio Access Network (RAN) configurations, distributed antenna systems (DAS) or a hybrid approach, densification via small cells is needed as operators struggle to cope with the continuously increasing demands for mobile data.
Small cells struggle in terms of their business case when compared to macro enhancement in outdoors, or Wi-Fi in the home or enterprise. So what is changing that improves the numbers to support small cells' momentum?
Download this report to learn:

The state of the small cell market and overarching trends
Factors that play into return on investment in small cell deployments, and how the industry is improving small cell economics
How the shared infrastructure model for small cells is expected to progress
Why LTE in unlicensed spectrum could be a game-changer for small cell deployments
Special sections on how fiber provider Zayo Group and wireless infrastructure provider Crown Castle view the small cell business case
Bonus: Supplier guide for wireless infrastructure companies
Watch the complimentary editorial webinar featuring:

Kelly Hill, Editor, RCR Wireless News
Iain Gillott, President, iGR
Dave Mayo, SVP Technology, T-Mobile US
Nick Johnson, CTO, ip.access
"Small cells are finally seeing some much-anticipated momentum, and last year appears to have been a turning point in terms of deployments," said Kelly Hill, editor at RCR Wireless News. "Form factors are getting smaller, equipment costs are coming down, and we're seeing a better understanding across the industry of how to make this technology workable in terms of network interactions, dealing with regulatory processes and the financial bottom line. Operators are using different types of small cell deployment approaches depending on the use case, but the upshot is that network densification is happening and is expected to only increase from here on out."
Click here to download the report.
About RCR Wireless News
Since 1982, RCR Wireless News has been providing wireless and mobile industry news, insights, and analysis to industry and enterprise professionals, decision makers, policy makers, analysts and investors. Our mission is to connect, globally and locally, mobile technology professionals and companies online, in person, and now on video. Our dedication to editorial excellence coupled with one of the industry's most comprehensive industry databases and digital networks leads readers and advertisers to consistently choose RCR Wireless News over other industry publications. http://www.rcrwireless.com