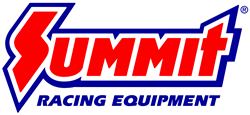 Tallmadge, OH (PRWEB) June 22, 2016
Summit Racing now carries a complete line of Scat Crankshafts and Connecting Rods. They will allow racers and street performance enthusiasts to build a strong foundation for high horsepower engines.
Cast Crankshafts
Scat's standard weight cast cranks are ideal for mild street performance stroker engines. The 9000 Pro Comp cast stroker cranks are for more aggressive street and race engines. They are lighter than the standard cranks, allowing engines to rev quicker. That makes them ideal for more serious street engines, circle track racing, and drag racing.
Forged Crankshafts
All Scat forged cranks are made from 4340 non-twist forgings. They're precision ground, heat treated and nitrided, and feature polished rod and main journals with large radii, chamfered oil holes, and lightening holes on the rod journals. Engine builders have a choice of:

Standard weight
Lightweight with contoured counterweight edges
Super-lightweight with pendulum-cut counterweights to further reduce rotating mass and oil windage
F43 ultra-lightweight cranks with pendulum-cut and profiled counterweights, gundrilled main shaft, and lightening holes on all journals
Connecting Rods
Summit Racing offers several types of Scat rods, all made from 4340 steel:

Stock replacement I-beam with 3/8 inch ARP WaveLoc rod bolts
Pro Stock I-beam with ARP cap screw bolts
Pro Comp I-beam with polished beams to eliminate street risers and 7/16 inch ARP cap screw bolts—clearanced for stroker applications
H-beam standard weight—strongest Scat rod available, ideal for supercharged and nitrous applications
Ultra-Lite H-beam with big end lightening hole to reduce weight without compromising strength—clearanced for stroker applications
Scat cranks are available for Chevy, Ford, and Chrysler V8 engines. Scat connecting rods are available for AMC, Chevy, Ford. Chrysler, and Pontiac V8, plus other engines from Honda, Nissan, Mitsubishi, and Subaru,
Summit Racing also carries Scat Rotating Assemblies. They include a Scat crank and rods, a choice of cast or forged pistons, a piston ring kit, and bearings. The assemblies are available for Chevy, Ford, Chrysler, and Pontiac V8.
Summit Racing Equipment
http://www.SummitRacing.com
1-800-230-3030