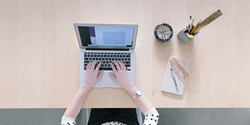 We selectively partner with companies like Gusto that are in the same stack, equipping our clients with more effortless solutions to crucial business functions. -Ian Crosby
Seattle, Washington (PRWEB) June 21, 2016
Bench, the online bookkeeping company, announced today an official partnership with Gusto, the online payroll and benefits provider, to improve and streamline back-office tasks for small businesses. Both companies will promote the discovery of its solution to existing clients.
"Small business owners can now cultivate their own collection of well-executed, online companies to handle the back-office tasks of their business." says Ian Crosby, Co-Founder and CEO of Bench. "We selectively partner with companies like Gusto that empower small business owners, and equip our clients with more effortless solutions to crucial business functions."
Back-office tasks such as bookkeeping and payroll are consistently cited as entrepreneurs' most time-consuming and disliked tasks. But with the new small business stack, services like Gusto, Bench, Stripe and Shopify are helping entrepreneurs save roughly 25 hours a month and avoid pitfalls related to tax compliance, giving them more time to focus on their core business.
Both companies cite exceptional Net Promoter Scores of over 65 and rely on a combination of human-powered services with proprietary software to power their product. The companies will work together to make it easier for their shared markets to discover and use each solution.
About Bench
Bench is a four-year-old fintech company that automates accounting tasks to organize the financials of small businesses. Pairing its intuitive software with a live bookkeeping team, Bench combines the convenience and efficiency of modern technology with the expertise and time-savings afforded by a professional service. Bench was founded by Forbes 30 Under 30 winner, Ian Crosby along with Jordan Menashy, Adam Saint and Pavel Rodionov in 2012. Bench has raised $33M to date, services thousands of business owners across the country and currently employs 230 people out of its headquarters in Vancouver, Canada. Follow @Bench or visit https://bench.co/.
About Gusto
Humans aren't resources. Gusto is fundamentally changing how the world works by empowering everyone to put people first. Gusto reimagines payroll, benefits, HR, and personal finance by automating the most complicated, impersonal business tasks and making them simple and delightful. Gusto has offices in San Francisco and Denver and its investors include Google Capital, General Catalyst, Kleiner Perkins Caufield & Byers, and the founders of Instagram, Stripe, Nest, PayPal, Yelp, Dropbox, and Eventbrite, among others.