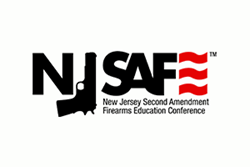 Cam is a great personality for Second Amendment advocates nationwide, and Evan is well-known as New Jersey's "Gun Lawyer".
Parsippany, New Jersey (PRWEB) June 22, 2016
Cam Edwards, host of Cam & Company on NRA News, will be a keynote speaker at the New Jersey Second Amendment & Firearms Education Conference. Edwards will address the challenges faced by New Jersey Gun Owners, along with other recognized experts including Attorney Evan Nappen, National Shooting Champion and ANJRPC President Kathy Chatterton, Attorney Daniel Schmutter, and clinical psychologist Dr. Gianni Pirelli. They are among the more than a dozen speakers who will address the Conference. Registration is now open for the Conference, which will be hosted at the Hilton Parsippany on Saturday July 30th, 2016.
This is New Jersey's annual Second Amendment conference, last year attracting nearly 300 attendees, features a full day of education, networking, and engagement in the Second Amendment community. Edwards and other speakers will share their experience and expertise on a range of topics including New Jersey Firearms Law, Introducing People to the Shooting Sports, and the Psychological Perspective of Firearms and Mental Health. The conference encourages attendees to engage in a greater role in being a force for change in their communities.
"We are thrilled to be joined by Cam Edwards, Evan Nappen and our other speakers at this year's Conference," said John Willett, Founder of New Jersey SAFE Conference. "Cam is a great personality for Second Amendment advocates nationally, and Evan is well-known as New Jersey's 'Gun Lawyer'".
The Conference is also offering a Continuing Legal Education course for lawyers on Friday July 29th, 2016. This course is open to everyone, but will provide 6.5 credit hours of New Jersey CLE credit for attorneys.
The SAFE Conference showcases speakers dedicated to improving New Jersey's gun laws, while an onsite Exhibit Hall hosts organizations and companies with products or services that appeal to gun owners.
The New Jersey SAFE Conference is presented by Bold Departure Productions LLC. It is also generously underwritten by several organizations including Gun for Hire LLC, RTSP, Henry Repeating Arms, Bullet Hole, Association of New Jersey Rifle & Pistol Clubs, Liberty Office Suites, and U.S. Law Shield.
Admission to the conference is $20. To register or learn more about the New Jersey SAFE Conference, explore our website, follow us on Twitter at https://twitter.com/NJ_SAFE or like our Facebook page at https://www.facebook.com/njsafecon. To apply for media credentials, please contact the Conference at: media(at)njsafecon(dot)net