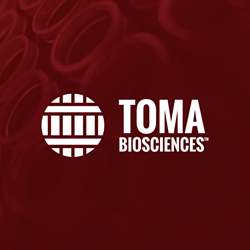 Foster City, CA (PRWEB) June 28, 2016
TOMA Biosciences has received a U.S. patent for their unique DNA next-generation sequencing technology. The U.S. Patent and Trademark Office issued to TOMA the U.S. patent entitled "Direct Capture, Amplification and Sequencing of Target DNA Using Immobilized Primers." The patent carries a term extending to 2032.
TOMA's patent stakes a claim to their efficient and comprehensive methods for sample preparation and targeted DNA sequencing. It also covers the TOMA OS-Seq™ reagent kits that can be used to accurately detect and analyze both single- and double-stranded DNA for all alteration types.
"The sample preparation process for targeted capture DNA sequencing can be very labor intensive," said Wolfgang Daum, President and CEO of TOMA Biosciences. "And biases in the DNA content are typically introduced during sample processing, increasing the risk of errors. TOMA's approach avoids many of these biases to produce digital quality sequencing, while enabling a simplified cost effective workflow for clinical laboratories and researchers. This patent recognizes our pioneering efforts to provide a fast, simple, and efficient way to generate clinically meaningful sequencing data from low volume and poor quality tumor samples or 'liquid biopsies' of circulating tumor DNA in the blood."
The patented next-generation sequencing techniques are not limited to specific DNA, genes, mutation types, or tissue types. Instead, they center on TOMA's unique library preparation methods based on oligo selective sequencing. "Unlike other standard methods, TOMA OS-Seq eliminates damaged DNA, uses a single-stranded DNA approach to perform ultra-efficient adaptor ligation, and then targets only the genes of interest during capture." said Wolfgang Daum. "Our oligio selective sequencing technology does not use hybrid capture, which is fundamental to the techniques of most other companies."
TOMA is pursuing a broad and robust patent portfolio, which includes approved and pending patent applications in the U.S., Europe, Japan and other jurisdictions outside the U.S.
For more information, please contact:
TOMA Director of Marketing Operations
Email: victoria.lavi(at)tomabio(dot)com
Cellular: 650-281- 3501
TOMA Biosciences provides the most effective sequencing solution to identify clinically meaningful changes in the DNA of cancer tumors. TOMA has commercially launched TOMA OS-Seq™ reagent kits to help laboratories and researchers uncover genomic changes in tumors, including many missed by other methods. With an exclusive license to the oligo selective sequencing (OS-Seq) technology invented at Stanford University, TOMA has developed a fast, simple and efficient way to comprehensively analyze all types of tumor samples – even those with limited volume and poor quality. A team of renowned industry specialists is leading the product development, commercialization and regulatory pathways to bring these products to laboratories, hospital systems and research institutions around the world. TOMA is a commercial stage, private venture-backed company headquartered in Foster City, California.