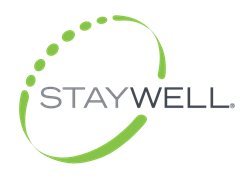 Yardley, PA (PRWEB) June 21, 2016
StayWell announced today that the company has been honored with multiple 2016 Hermes Creative Awards for work conducted in collaboration with its clients. StayWell, a health engagement company that delivers patient education, health content marketing, health engagement and population health management solutions, was recognized along with select clients with the following awards:
Platinum Awards

Connection to Care (newsletter) with Loma Linda University Health
Healthy Lifestyle (newsletter) with US Family Health Plan
Journal of Change (newsletter) with Independence Blue Cross Foundation
Just Kids (newsletter) with Children's Hospital & Medical Center
Your Health Matters (newsletter) with Peterson Regional Medical Center
Gold Awards

A Healthy Tomorrow (newsletter) with Loma Linda University Health
2016 Year of Health and Happiness (calendar) with Health First Health Plans
Health Lines (newsletter) with CGH Medical Center
Healthy Living (newsletter) with Health First
Health Connection (newsletter) with HSC Health Care System
2016 Health and Wellness (calendar) with Loma Linda University Health
Thrive (newsletter) with Indian University Health
Welcome To Wellness (newsletter) with Fountain Valley
Honorable Mention

A Quality You (newsletter) with QualChoice
Better Medicine (newsletter) with Lehigh Valley Health
Focus on Health (newsletter) with Staten Island Hospital
Healthy Connections (newsletter) with Summit Medical Group
Heart Rounds (newsletter) with Loma Linda University Health
OK Kids (newsletter) with Children's Hospital at OU
Living Life 2016 (calendar) with VA Health
Hermes Creative Awards is an international competition for creative professionals involved in the concept, writing and design of traditional materials and programs, and emerging technologies. Entries come from corporate marketing and communication departments, advertising agencies, PR firms, graphic design shops, production companies, web and digital creators and freelancers. The awards are sponsored and judged by the Association of Marketing and Communications Professionals. Visit http://www.hermesawards.com/ to learn more.
About StayWell
StayWell is a health engagement company that helps its clients engage and educate people to improve health and business results. StayWell brings decades of experience working across the health care industry to design solutions that address its clients' evolving needs. We fuse expertise in health engagement and the science of behavior change with an integrated portfolio of solutions and robust content assets to effectively engage people to make positive health care decisions. StayWell programs have received numerous top industry honors, including the C. Everett Koop National Health Award and the Web Health Award for health engagement programs. StayWell also has received URAC and NCQA accreditation for several of its programs. StayWell is headquartered in Yardley, Pennsylvania, and also has major locations in Salt Lake City, Utah, and St. Paul, Minnesota. To learn more, contact StayWell at information(at)staywell(dot)com or call 800.333.3032.