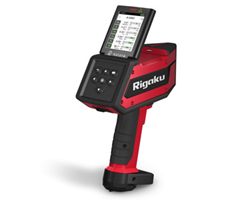 Wilmington, Massachusetts (PRWEB) June 21, 2016
Rigaku Corporation is pleased to announce its attendance at the 2016 Institute of Scrap Recycling Industry (ISRI) Gulf Coast Chapter meeting, booth 516.
Rigaku Analytical Devices will be presenting demonstrations of its handheld laser-induced breakdown spectroscopy (LIBS) analyzer, KT-100 Katana. The KT-100 handheld LIBS has recently successfully passed rigorous MIL-STD-810G and IP-54 durability tests making it the world's only handheld metal grade and composition analyzer to have achieved certification. As the first handheld metal analyzer to have passed drop, vibration, and shock tests and with an IP-54 rating for use in wet environments, KT-100 Katana is truly optimized for rugged use in scrap yards and fabrication shops.
Designed for on-the-spot metals classification, including aluminum grades, KT-100 Katana has powerful analytical capabilities, offering results in less than 2 seconds with QuickID™ software – at the touch of a button. Katana offers unique auto surface preparation with its Drill-Down™ feature and is considerably smaller and lighter than other handheld LIBS analyzer currently available. With an extended battery life, Katana is more robust and less susceptible to fatigue and downtime, which is critical for on and off-site operations. Furthermore, the GPS allows for instrument tracking which helps protect your investment.
To find out more about the capabilities of MIL-STD-810G certified Katana, please visit the Rigaku Analytical Devices team at booth #516 at ISRI Gulf Coast Chapter meeting from 23rd - 24th June 2016 or visit http://www.rigakuanalyticaldevices.com.
About Rigaku Analytical Devices (RAD)
RAD was formed as the global handheld and portable spectroscopic analyzer business unit of Rigaku Corporation in 2011. RAD's portfolio of handheld and portable spectroscopic analyzers are used for a variety of applications, empowering our customers to achieve rapid lab-quality results any time, any place.
For further information please contact:
Jen Lynch
Marketing Director
Rigaku Analytical Devices
Wilmington, MA USA
Tel: + 44 1477 539539
Jen(dot)Lynch(at)Rigaku(dot)com