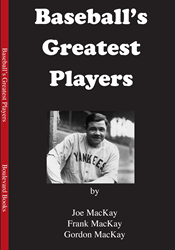 Baseball's greatest players and their remarkable achievements.
Patchogue, New York (PRWEB) June 22, 2016
Nationally syndicated radio show host and Boulevard Books author, Frank MacKay, will be discussing and signing copies of his new book, baseball's Greatest Players at Ristegios, 641 Medford Ave, North Patchogue, NY 11772 at 7:00 pm on June 27th.
Frank MacKay's career in public relations, entertainment and politics spans four decades and encompasses a diversity of fields of work. In 1985, at the age of 18, he published his first music publication, "Network", which fast became a hit among music business insiders, musicians and their fans. Throughout the next ten years, MacKay built a significant following in the music industry as a band and club promoter. By the age of 25, he had launched three nightclubs known as Dr. Shay's and managed entertainers such as Criss Angel and the rock band Los Gusanos, featuring CJ Ramone. MacKay has a large presence on the website MySpace as well as Facebook.
MacKay was always an avid student of politics, and early in his career in entertainment he helped club-goers register to vote by the thousands. In 1995, be became a key organizer in Ross Perot's run for the Presidency and became active in local third party politics. By the year 2000, at the age of 32, MacKay became the youngest State Chairman of a political party in New York State history, and has been re-elected as State Chair of the Independence Party of New York nine times. The Independence Party has grown significantly under his leadership – it is the largest third party political organization in the nation with more than 500,000 members.
MacKay has appeared in hundreds of national, state and local publications and has developed a niche audience among young political activists.
Boulevard Books is an educational publishing company founded in 2010 by author and educator Avi Gvili.