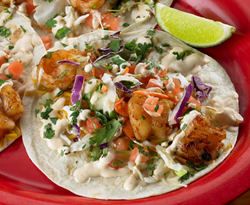 Largo, Florida (PRWEB) June 21, 2016
Summer is set to sizzle as The WingHouse Bar & Grill launches their summer menu. With a focus on fresh flavors and summer classics, this limited time only menu will give customers a chance to explore the lighter side of WingHouse.
The soft and chewy Pretzel Bites served with a Wisconsin cheese sauce and honey mustard are a perfect game-day snack. Nacho lovers can indulge with shareable Pork Nachos that are piled high with slow roasted bbq pork, jalapenos, diced tomatoes, shredded cabbage and topped with cilantro lime cream sauce and Wisconsin cheese sauce.
The new WingHouse Chicken Pasta Salad is light and full of flavor with a choice of grilled, blackened or fried chicken atop chilled rotini pasta, cucumbers and sprinkled with parmesan cheese. For a fresh take on the traditional Taco Salad WingHouse serves this crowd favorite with crisp lettuce and top it with chili, cheese, diced tomato, fried jalapenos, tortilla chips and a cilantro lime cream sauce.
Tapping into the flavors of a backyard summer bbq, the Pulled Pork Sandwich is piled high with shredded bbq pork, topped with coleslaw, crispy onion strings, and drizzled with Dallas sauce. For an additional mouthful of flavor, the summer Tacos fit the bill. Served with your choice of tender shrimp, fresh grilled chicken or slow roasted bbq pork, these tacos are topped with cheddar cheese, shredded cabbage, diced tomato, and cilantro lime cream sauce.
Completing the summer menu offerings is the Guava Cheesecake. This classic N.Y. Style cheesecake is infused Guava fruit. There's even something on the menu for those who love cocktails. The refreshing Lemon Smash is a combo of Deep Eddy Lemon Vodka, fresh lemon, and sweet and sour.
The WingHouse Bar & Grill's summer menu is offered for a limited time only and will be available June 13, 2016 to the end of summer at all 25 WingHouse locations.
About the WingHouse
The first WingHouse was opened over 20 years ago in Largo, Florida by former Dallas Cowboy and Denver Broncos NFL guard Crawford Ker. The WingHouse of today still holds the same brilliant ideas that we had in the beginning. We believe that your experience with us should always include friendly, attractive and smiling service, oversized portions of delicious food at a great price, and be the ideal place to enjoy being a sports fan. We strive every day to deliver the WingHouse "Brilliant on the Basics" mission to every customer who is greeted at our door.
Uncompromising Experience
We believe that it shouldn't cost all the money in your wallet to enjoy a memorable restaurant experience filled with sports, fun, friends, and a meal that leaves you feeling satisfied.
Every trip to a WingHouse starts with the foundation of our restaurant - The WingHouse girls. You can find the WingHouse girls greeting customers, serving tables or handing a customer a icy cold draft beer behind our full liquor bar. No matter where you find our staff, they are always smiling, friendly, attractive, attentive, outgoing, and knowledgeable - our ultimate brand cheerleaders.
Hungry for more? Like our name says, we were founded on our made-to-order, juicy and flavorful customer voted best wings and 22 sauces. And although we haven't changed our original recipe for success since we started, we have expanded our menu to include delicious shareable appetizers, fresh and flavorful salads, flaky seafood dishes, and craveable seasonal offerings. WingHouse dishes are always served in hearty portions for an affordable price- because we believe in delivering real everyday value to all our customers.
We also believe that any outing to WingHouse is never complete without your favorite local and national sports. With a huge array of Hi-Definition flat screen TV's at every WingHouse location and all your favorite big-time sports packages, plus WWE, Boxing, and UFC Pay-Per-View Events, WingHouse is the best place to cheer your team on to victory.
Where We're Headed
With over 25 locations throughout Florida, WingHouse is looking to share our "Brilliant on the Basics" mission with more communities throughout the United States in the coming months and years.