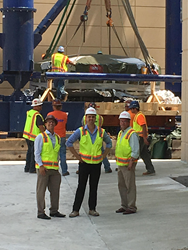 "Gilbane Building Company is pleased to work with Baptist Health on this critical project and bring groundbreaking cancer treatment to South Florida."
(PRWEB) June 21, 2016
Gilbane Building Company, the nationally recognized leader in proton therapy construction, is building the Proton Therapy center at Baptist Health South Florida for the Miami Cancer Institute. Being introduced as 'Pete', a 220-ton breakthrough in cancer care, the equipment traveled nearly 4,700 miles on its transatlantic journey from Belgium. The highly anticipated Proteus®PLUS three-gantry room configuration includes next generation Pencil Beam Scanning capability, is the only one of its kind in the region.
The 70,000 square foot state-of-the-art facility which includes support spaces for treatment and research is only one of a handful of proton therapy centers in the country and the first in South Florida.
Construction of the Baptist Health proton therapy center began in March 2015, and included over 15,000 cubic yards of specialized radiation shielding mass concrete which required a great deal of coordination and quality control with execution. Gilbane hired Robins & Morton as the subcontractor for the concrete structure surrounding the proton treatment vaults and equipment.
"The construction of proton therapy facilities is highly technical and challenging," said Tim Hensey, vice president of Gilbane Building Company. "Gilbane Building Company is pleased to work with Baptist Health on this critical project and bring groundbreaking cancer treatment to South Florida."
With extensive experience in cancer center construction earned working with over 50 percent of the nation's top 20 cancer hospitals, Gilbane is positioned to provide South Florida with the highest quality proton therapy treatment facility unequaled in the region.
Miami Cancer Institute will be a world-class clinical center and research facility, part of Baptist Health South Florida, the largest not-for-profit healthcare organization in the region.
About Gilbane Building Company
Gilbane provides a full slate of construction and facilities-related services – from pre-construction planning and integrated consulting capabilities to comprehensive construction management, close-out and facility management services – for clients across various markets. Founded in 1873 and still a privately held, family-owned company, Gilbane has more than 50 office locations around the world.
Ranked the #7 builder of healthcare facilities by Modern Healthcare, Gilbane's team of professionals have lent their expertise to projects for such notable Florida healthcare clients as St. Joseph's Hospital/Baycare, Sarasota Memorial Hospital and Orlando Regional Medical Center.
For more information, visit http://www.gilbaneco.com.
About Miami Cancer Institute
Miami Cancer Institute, a world-class clinical center and research facility, will offer South Florida's only proton therapy treatment and is part of Baptist Health South Florida, the largest healthcare organization in the region, with seven hospitals (Baptist Hospital, Baptist Children's Hospital, Doctors Hospital, Homestead Hospital, Mariners Hospital, South Miami Hospital and West Kendall Baptist Hospital) and more than 30 outpatient and urgent care facilities spanning three counties.
###