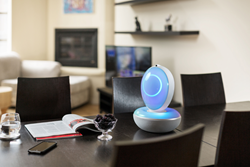 San Francisco, Calif. (PRWEB) June 21, 2016
Rokid, Inc., an artificial intelligence (AI) and robotics company, announced today the one year anniversary of its U.S. expansion. Rokid is a smart family technology in Home AI that is pioneering voice print, facial, touch, and motion recognition systems. From its humble beginnings in an artist's loft in SOMA, to its new U.S. headquarters in the bustling Union Square, Rokid has grown to over 30 employees in its first year. Rokid's success underscores the consumers' interest in smart homes which continues to rise, setting the stage for rapid growth.
"Our first year in the U.S. was very momentous and our second year is shaping up to be even better," said Tami Zhu, GM, Rokid. "Our commitment to innovation and evolving our technology has paid off with industry recognition. Now, with a world-class team and a core set of strategic partners, we look to further build on that momentum with a successful product introduction in the U.S. to propel us into our next phase of growth."
Rokid was founded in Hangzhou, China. In November 2014, the global office moved to a new location inside the Xixi National Park of Hangzhou. Rokid officially launched in China in October 2015. The company partnered with Alibaba and began selling in China in April 2016.
Highlights of Rokid's first year include:

Tami Zhu was appointed as General Manager of Rokid's U.S. operation. Under her leadership, the company expanded its world-class talent to over 30 employees. A well regarded technology executive, Tami has an outstanding global track record across the United States, Asia and Europe. Before joining Rokid, Tami held executive positions at IPG Mediabrands, IAC/InterActiveCorp, AOL Ventures, and Excite@Home. Tami holds an MBA from MIT Sloan and has a Master's in Computer Science from University of California, San Diego, and a Bachelor of Science in Information Sciences from Beijing University.
Rokid opened its new headquarters in Union Square, San Francisco. Most recently, the company established a research lab with a team of PhDs from the nation's top universities, focusing on robotics.
2016 CES Innovation Award – Rokid was chosen as a CES Innovation Honoree. This distinction reflects innovative design and engineering in some of the most cutting edge tech products and services coming to market.
TiE50 Winner and TiE50 Top Start-Up Awards – TiE is a global, not-for-profit network of entrepreneurs and professionals dedicated to the advancement of entrepreneurship in Silicon Valley.
Over the past year, Rokid experienced exponential growth, forming new strategic partnerships with key players in IoT, entertainment, travel, health, and service companies.
About Rokid's Smart Family Technology
Rokid easily blends into the home, recognizing individual family members and adapting to their specific personality and needs with its multi-dimensional audio and visual interaction abilities. It proactively delivers information and performs tasks for the entire family through engaging two-way exchanges. From turning on the lights and playing your favorite song, to providing today's weather, Rokid seamlessly interacts with each family member serving as a resource, an entertainer and a truly intelligent addition to the home.
Rokid emphasizes premium quality in every facet of build from software and hardware to industrial design and manufacturing. Most of the device's hardware is independently designed or highly customized, offering truly unique and optimal performance.
About Rokid, Inc.
With offices in San Francisco, Calif., Hangzhou and Beijing, China, Rokid, Inc. was founded in July of 2014. Rokid is in the forefront of the Home Artificial Intelligence (AI) category. The global staff of over 90 features over 15 PhDs and more than 30 Master's holders, which include prominent scientists, engineers, and business leaders with expertise in artificial intelligence, robotics and manufacturing. For more information, please visit us at http://www.rokid.com/about and keep up to date on our progress on Facebook and on LinkedIn.