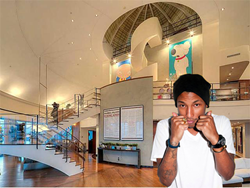 Miami Beach, FL (PRWEB) June 20, 2016
Miami Beach waterfront home and luxury condo broker Julian Johnston has made Pharrell Williams very 'happy' with the sale of his penthouse unit at the Bristol Tower condominium in Miami's Brickell area. The unit was bought by the singer/musician/producer Pharrell Williams in 2007 and sold today for $9,250,000. Pharrell Williams has moved to Los Angeles.
The buyer is an entrepreneur from Princeton, New Jersey. The buyer wishes to keep his name confidential, but he disclosed that his family will be moving to Miami and this will be his primary residence. The buyer says Brickell captures the essence of dynamic Miami city living with the financial district, beaches, restaurants, and private airport all close by.
Bristol Tower PH4000 is a two-story penthouse featuring 360-degree views of the Atlantic Ocean, Key Biscayne, and the dynamic Miami city skyline. The five bedroom, six and half bathroom penthouse has over 9,000 square feet of living area and includes high-end features such as the thirty foot ceilings capped by a translucent dome, designer Italian finishes, teak hardwood flooring, kitchen by Italian design firm Pininfarina, and more. The penthouse also has 5,000 square feet of outdoor space with private roof top pool, summer kitchen and herb garden. Bristol Tower is located at 2127 Brickell Avenue. The 40-story luxury building was developed by Ugo Colombo in 1993.
About Julian Johnston
Julian Johnston is a luxury Miami Beach Broker specializing in Miami Beach luxury waterfront homes and condos for sale. In 2012, Julian achieved a Florida record highest sale with the $25,000,000 closing of the penthouse at Continuum in Miami Beach. In 2015 he was the MLS top ranked #1 Broker in Miami Beach with sales over $120,000,000, and the MLS ranked #1 Waterfront Home Broker in the islands surrounding Miami Beach. He currently is the broker owner of Calibre International Realty selling luxury waterfront homes and condos in Miami Beach. You can contact Julian Johnston at 305.502.3985, Julian(at)MIAwaterfront(dot)com and website http://www.MIAwaterfront.com