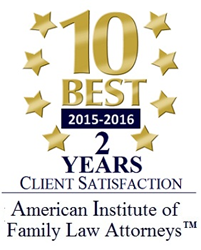 Boca Raton, Florida (PRWEB) June 21, 2016
The mission of the American Institute of Family Law Attorneys is to help empower consumers as they select legal counsel by distinguishing lawyers who have maintained exceptional client satisfaction. AIOFLA's research team considers everything from prior industry awards to education, associations, and industry leadership when evaluating each peer-nominated candidate. Following this rigorous selection process, a mere 10 attorneys in each state receives the prestigious AIOFLA distinction.
This is not the first time Attorney Moskowitz has received notice for client satisfaction. Along with his prior 2015 accolade from AIOFLA, he has earned Avvo Clients' Choice Awards in the Family Law category in 2014, 2015 and 2016. Much like the "10 Best for Client Satisfaction" award, the Avvo honors are based on positive feedback from former clients who Attorney Moskowitz has represented.
We congratulate Attorney Moskowitz on yet another impressive industry notice and know that his passionate and dedicated work in the family law arena will continue to make a difference for the individuals, couples, and families he serves.
###
The Law Offices of Brian M. Moskowitz is a premier Boca Raton family law and divorce firm serving clients throughout South Florida. Attorney Moskowitz is an award-winning legal advocate committed to securing swift and favorable solutions for the families that rely on him.
To learn more about the firm, please visit: http://www.mosklaw.com/