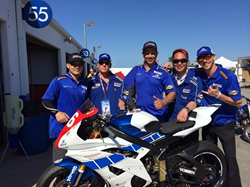 "RiderzLaw is very excited to have Roi Holster join the team," said Sy Nazif of RiderzLaw. "He and the entire Napa Valley Racing crew represent the character and professionalism we value here at RiderzLaw, both on and off the race track."
Napa, CA (PRWEB) June 21, 2016
RiderzLaw announces its sponsorship of Roi Holster of Napa Valley Racing for the remainder of the 2016 MotoAmerica season.
Roi Holster will be joining RiderzLaw's other MotoAmerica racers, including John Knowles (KTM RC Cup) and Robert Pierce (Supersport / Superstock 600). Roi began racing motorcycles at the age of nine, beginning with motocross and arenacross, and now races 1000cc Superbikes with MotoAmerica. In 2011, he placed 6th nationally in AMA Pro Supersport West.
"RiderzLaw is very excited to have Roi Holster join the team," said Sy Nazif of RiderzLaw. "He and the entire Napa Valley Racing crew represent the character and professionalism we value here at RiderzLaw, both on and off the race track."
About RiderzLaw: RiderzLaw is the premier motorcycle accident law firm in California, and sponsors of both amateur and professional riders, and owners of RiderzBlog.net. Founder Sy Nazif is an avid motorcyclist and dedicated track-day enthusiast. Mr. Nazif is passionate about helping motorcycle accident victims and their families, and believes that every rider deserves the best legal representation possible.