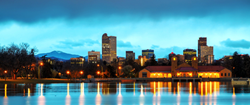 80% of contact centers utilize work at home today - 2016 Benchmarking Survey
Dallas, TX (PRWEB) June 22, 2016
There are two upcoming meetings in Denver centered exclusively on work at home for contact centers. "Work at home is exploding in contact centers - it's a mature, high impact strategy that drives applicant flow, and delivers better results in selling, customer experience, attendance and employee retention," say Michele Rowan, President. The 2016 Benchmarking Survey reveals that 80% of contact centers utilize work at home in some form today, and the strategy continues to expand.
The first Denver session on July 19, is a one-day Virtual Sourcing and Hiring Boot Camp on digital hiring and on-boarding of work at home staff for contact centers. It is designed for HR leaders who are charged with staffing work at home positions, and the agenda reflects key objectives and challenges facing HR stakeholders.
The second Denver session is the two-day Advanced At Home Strategies Workshop on July 20-21, with deep dive discussions, best practices and benchmarking on all functions highly impacted by remote work in contact centers. Topics include virtual training, virtual performance management, best in class technologies, security, equipment and services provisioning.
Both conferences are at the Hilton Cherry Creek, Denver.