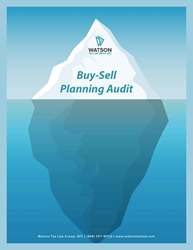 A buy-sell agreement is a critical component of any business succession or exit plan
Santa Ana, CA. (PRWEB) June 23, 2016
Business owners can establish certain steps to help guard against business disruption if one or more shareholders or partners unexpectedly dies, becomes disabled, or leaves the business. One of the most important of these steps is the creation of a buy-sell agreement.
"A buy-sell agreement is a critical component of any business succession or exit plan," says Richard C. Watson, attorney at law and founder of Watson Tax Law Group. "It sets the terms, conditions and price at which an owner's business interest can be sold to another owner before something unexpected happens."
According to Watson, having a poorly drafted buy-sell agreement can be like a ticking time bomb and can be even worse than not having one at all. "It's a good idea to have your buy-sell agreement reviewed periodically to ensure it continues to reflect the business succession planning goals and objectives of shareholders and the company's current circumstances," says Watson. "That's exactly why we created the Buy-Sell Planning Audit. We knew it would help owners to begin the conversation."
The Buy-Sell Planning Audit begins with an overview of buy-sell agreements and includes a discussion of how to avoid conflicts, determine the type of agreement that best aligns with shareholder and company objectives, as well as determine the purchase price. Upon completion of the Audit, shareholders can leverage its results to better assess, discuss, and, ultimately, implement their buy-sell planning goals and objectives. The Audit takes approximately 20-30 minutes to complete.
Complimentary Consultation through August 19, 2016
Watson Tax Law Group is committed to helping business owners achieve their long-term buy-sell planning goals and objectives and to maximizing the value of the business for all stakeholders. As part of the rollout of the Buy-Sell Planning Audit tool, Watson Tax Law Group will provide a 60-min consultation to discuss an owner's Audit results on a complimentary basis through August 19, 2016.
To learn more about the Buy-Sell Planning Audit or to request a complimentary consultation, visit http://www.watsontaxlaw.com/services/buy-sell-and-shareholder-agreements/.
About Watson Tax Law Group, APC
Watson Tax Law Group is exclusively focused on the needs of entrepreneurs. We help small business owners to build, manage, and transition their businesses. Whether it's helping to form a startup, drafting a buy-sell agreement, assessing a company's strategic transition alternatives, or providing transaction advisory services for a variety of shareholder transactions (i.e., gifting or selling to the next generation, selling to existing shareholders or partners, to a group of employees, to an Employee Stock Ownership Plan [ESOP], or to a financial or strategic buyer), we can help.
We view planning for entrepreneurs as a team sport and work collaboratively with an owner's full advisory team. We regularly counsel small business owners on:

Formation services for startups;
Business succession planning;
Buy-sell agreements;
Transaction advisory (i.e., corporate restructurings, M&A advisory, and shareholder buyouts, redemptions, buybacks, and buyins); and
Estate and tax planning that is customized for entrepreneurs and their businesses.
More at http://www.watsontaxlaw.com/