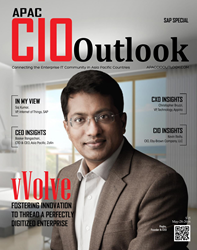 vVolve's versatile approach is the key to helping clients develop automated processes while maximizing visibility and transparency across enterprise-wide operations
(PRWEB) June 28, 2016
vVolve Management consultants with its core consulting capabilities in providing solutions in the areas of Digital Process automation and business accelerators, based on SAP and OpenText platforms, was featured in APAC CIO Outlook's SAP Special issue, May 2016, "25 Most Promising SAP Solution Providers". This print and digital magazine aims to provide a platform for management levels and decision makers to share their experiences and wisdom with the Enterprise IT community of APAC countries.
vVolve's revolutionary approach towards improving their customer experience has helped them gain recognition with the APAC CIO Outlook Magazine. The magazine's panel of experts believe that vVolve's innovative & simplistic solutions are fundamental to the company's success. Furthermore, vVolve's smart value proposition has helped their clients adapt seamlessly in this age of digitization.
Raghu, Founder & CEO of vVolve explains "vVolve's versatile approach is the key to helping clients develop automated processes while maximizing visibility and transparency across enterprise-wide operations. Our services are not just technology focused, but are business-centric. We use technology as a tool for better business outcomes. This emphasis on positive business outcome is the difference between vVolve and any other SAP consulting organization".
About vVolve:
Founded in 2010, vVolve is a Management Consulting company with a primary focus on helping customers in Business Transformation initiatives using Digitization. vVolve is distinctly positioned to connect the worlds of Process Automation and Digital Solutions which are fundamental in ensuring organizations are digitally enabled.
vVolve helps enterprises embark on the journey of Digital Transformation using Advanced Analytics and Enterprise Information Management solutions, while leveraging their investments in existing ERP solutions. With over 20 years of management consulting experience in SEA, the vVolve team serves as a trusted advisor and solution provider to your business in optimizing costs and maximizing your business growth.
For further information, please email us at info(at)vVolve(dot)com