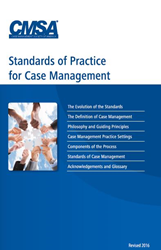 "I believe the professional case managers are critical members of the collaborative care team as their contributions are crucial in assisting the care team to achieve positive outcomes for our patients." - Kathleen Fraser, CMSA President 2014-2016
Little Rock, AR (PRWEB) June 21, 2016
The Case Management Society of America (CMSA) is proud to announce the release of CMSA's 2016 Standards of Practice for Case Management. The impetus for the 2016's revision of the Standards of Practice for Case Management is the need to emphasize the professional nature of the practice and role of the case manager.
The maturity of the practice of case management, the importance of protecting the professional role of case managers, and the enactment of new laws and regulations including the Patient Protection and Affordable Care Act, all legitimize professional case management as an integral and necessary component of the health care delivery system in the United States.
"I believe that professional case managers are critical members of the collaborative care team as their contributions are crucial in assisting the care team to achieve positive outcomes for our patients," stated Kathleen Fraser, CMSA President 2014-2016. "We recognized the need to revise the Standards of Practice in order to be reflective of the expanding role of the professional case manager and to help define the contributions and value case managers bring to the changing health care system."
The 2016 Standards of Practice contain information about case management including an updated definition, practice settings, roles and responsibilities, case management process, philosophy and guiding principles, as well as the standards and how they are demonstrated. CMSA provides these standards as a resource to professional case managers and the healthcare industry.
The publication is available as free download for all and can be accessed here: http://bit.ly/28KokSc
About the Case Management Society of America (CMSA)
Established in 1990, the Case Management Society of America is the leading non-profit association dedicated to the support and development of the profession of case management. CMSA serves more than 30,000 members, subscribers and participants, and 75 chapters through educational forums, networking opportunities, legislative advocacy and established standards to advance the profession. For more information, visit http://www.cmsa.org or follow CMSA on Twitter @CMSANational.