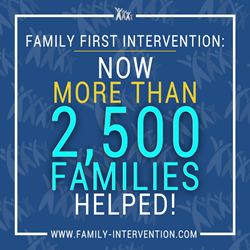 We've got to change the family's mindset about their loved one's addiction, and they need to realize that a full recovery isn't going to happen unless they take an active and supportive role
Phoenix, AZ (PRWEB) June 21, 2016
Family First Intervention, a group of professional interventionists with a national presence, has now helped more than 2,500 families who have loved ones who suffer from various forms of addiction. The organization was founded in March 2008 by Mike Loverde, Certified Intervention Professional.
Family First Intervention helps families in all 50 states by coordinating and performing an intervention or by verifying a client's health insurance and helping refer them to the most appropriate destination for treatment. The breakdown of clients Family First has served works out to be more than 1,500 families who needed intervention services, and close to 1,000 families who needed help with insurance verification and treatment program selection.
Family First's intervention process is relatively uniform no matter the type of addiction being addressed. However, the Phoenix-based organization has a unique perspective on the goal of each intervention:
"When a flower doesn't bloom, you don't fix the flower. You fix the surrounding environment," said Loverde, the company's president and lead intervention counselor. "What this means is that we've got to change the family's mindset about their loved one's addiction, and they need to realize that a full recovery isn't going to happen unless they take an active and supportive role."
A family's support is why Family First is vigilant about having as many immediate and extended family members in the room as possible during an intervention, all coordinated by Loverde's organization. "Changing the environment" for the struggling addict is also why Loverde recommends sending a loved one to treatment at an out-of-town location, so the individual can break out of his or her bubble and not worry about all the negative influences back home.
As far as Family First's client demographics, Loverde said almost 90 percent of the addicts his organization has helped are males between the ages of 18 and 30 years old. Many were suffering from heroin or opiate addiction at the time Family First was enlisted to help.
Family First also performs interventions for families who have a loved one who suffers from alcoholism or another form of addiction, such as:

Gambling
Food
Sex
Hoarding
Shopping
Other destructive behaviors
"The substance of choice or destructive habit isn't the focus of an intervention," Loverde said. "It's about how the person's life is altered and how relationships are affected as a result of the specific addiction. We then focus on how to improve those areas going forward."
To learn more about Family First's intervention process or if you are looking to set up an intervention for someone right now, just visit https://family-intervention.com/. If you know someone ready to enter rehab and you're interested solely in Family First's insurance verification and treatment center services, please visit https://addiction-treatment-services.com/.